These four sweet kids are the 2011 Leukemia & Lymphoma Society NYC Chapter's Boys & Girls of the Year. Adrian, Ian, Kate, and Caroline are all survivors of blood cancer. They are also all charming and adorable. I wish I could show you the video we watched last night at the Team in Training fall season kick-off event about their personal stories. Of course, the video was so touching that I couldn't help but cry, but it was also silly, and fun, and so full of life.
When the Leukemia & Lymphoma Society was founded in 1949, a blood cancer diagnosis was almost always fatal. Thanks in part to innovative research funded by LLS, survival rates for many blood cancers are now more than 90%. With the help of major fundraising campaigns, including Team In Training, LLS has awarded more than $750 million in research funding since the first funding in 1954. (More info.)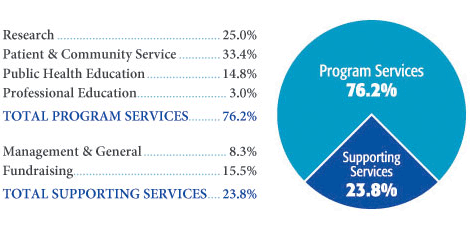 There are so many worthy charities in the world to support and I know that the constant request for money from them all is daunting. I choose to give the majority of my charitable donations to the LLS for many reasons.
1- I know where the money goes. The official breakdown is seen in the pie chart above, but more importantly, I have met some of the researchers who have received grants and the patients who have received financial assistance so that they could get the treatment they needed. At this point, I am extremely connected to the LLS mission of curing blood cancers.
2- I personally know many of the people who work for TNT and LLS. They are incredible, kind people doing good work. They work long, irregular hours and never stop supporting the TNT athletes and honored patients. TNT and LLS staff (not just coaches) are on the sidelines cheering at every athletic event.
3- I admit, I'm selfish. I LOVE training with Team in Training. The coaches and participants are all amazing. Plus, it keeps me healthy and helps me accomplish major goals. It is the best endurance training program in the world.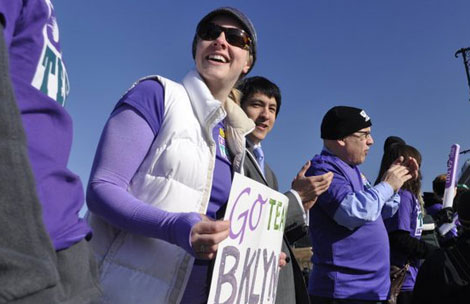 Ok, you guessed it, all of this is leading up to me asking for donations… I hate pressuring people for money. It is difficult for me to even ask, especially since so many of you have been so generous during previous TNT seasons. BUT, if you feel inspired by the mission of the LLS like I do, and would like to help me complete the Marine Corps Marathon in October, check out my fundraising page!