Hello! Welcome to Day 2 of my raw, vegan, Organic Avenue juice cleanse!
I am actually feeling remarkably well! But I think that has a lot to do with the coffee (with soy milk) I had this morning. I was having bad headaches from caffeine withdrawal yesterday and I just didn't think it was worth it to go through that again today. Like Travis said, maybe it wasn't smart to give up food and coffee at the same time. BUT, I have stayed on all vegan liquids for at least the last 36 hours! That is something, right?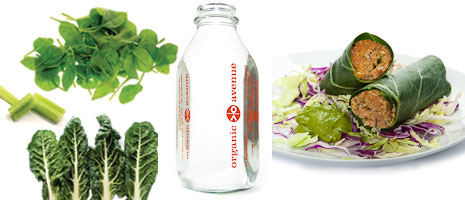 This morning I had some really delicious grapefruit juice and now I get more Young Love juice, plus alkaline water (of course). I am going to cheat this afternoon and eat a "burrito." I bought the Burrito Crudo w/ Chipotle Lime Dipping Sauce at the Organic Avenue store this morning when I picked up my juices. I have an intense boot camp class tonight (that I already paid for) and I feel like I won't make it through it without some sort of solid fuel. I feel ok about this "cheat." I am staying vegan and within the overall Organic Avenue program.
My thoughts today:
Negatives: I drank the coffee – bad girl. Last night I was very hungry and sort of listless, but more than that I was sick of the green juice. I didn't even finish my last juice yesterday! Today I am hungry, but not terribly so. I am worried about how I will do at my exercise class tonight. Also, my skin is breaking out. ick.
Positives: I really feel great right now. I have energy and my mind is clear. I have NOT had any bathroom issues – which is better than what I was expecting. I am feeling encouraged right now to stick with this cleanse until Saturday morning! (With the addition of the vegan burrito, of course.)