A re-post from 2006 that says everything I am thinking today…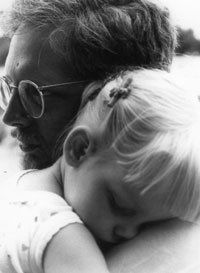 This is one of my favorite photos of my dad. It makes me feel safe and secure and loved knowing that when I was little I could just fall asleep on his shoulder… now that I think of it, he would probably still let me fall asleep on his shoulder! I am so thankful for my dad. He dedicated most of his adult life to teaching his four children cool things and taking us to cool places (and to moving us in and out of an unending string of college dormitories). I still believe that my dad knows everything!
I hope you have a wonderful Father's Day, Dad! I love you!