By now I hope you already know (because if you are getting your news from me, you might be in trouble) that New York State passed a bill allowing same-sex marriage — a huge step in marriage equality and human rights. What an awesome and happy achievement!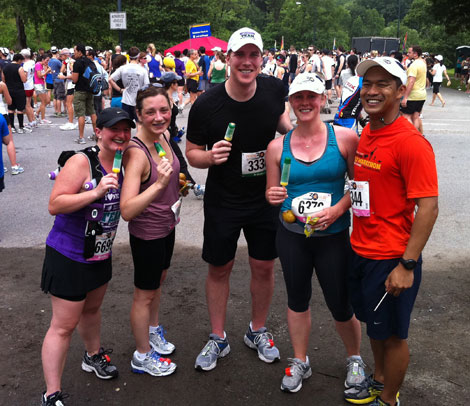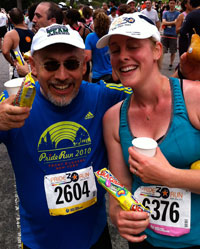 When the bill passed on Friday night I was eating pasta with Team in Training friends (Becca, Jessica, Travis, me, and Brian in the photo above) in preparation for a race in the morning — the Front Runners New York Lesbian and Gay Pride Run, to be specific. We all cheered and treated ourselves to more carbs. We had already planned to run the race on Saturday morning, but it felt really good to have a concrete way to celebrate marriage equality.
I truly felt proud to show my support for a cause that I believe in whole-heartedly. It was such a great race and jubilant day! I did my best to keep up with my reluctant TNT pacer and friend, Larry (seen to the right), and we ran hand-in-hand across the finish line like the two goofballs that we are. Everyone got rainbow popsicles at the finish line. Then we all went to brunch. Then we went to Shake Shack for shakes. A Saturday in NYC doesn't get much better!
The passage of the marriage equality bill makes me happy for infinite reasons, and one of those reasons is that it shows that change can happen. It can take a long time, it can be very difficult, but we CAN work to shape our government and our country.
I do not get overly political on the internet. Mostly because I work extremely hard to stay positive. I have no desire to add to the constant negativity, hurtfulness, and criticism that seems to be unending online. I do appreciate the importance of critical thinking and constructive criticism, but I personally choose to try to emphasize the positive when possible. Probably this positivity comes across as simple-minded to some, but even though it is sometimes hard to resist, you will not (hopefully) find me ranting on politicians I do not like. Instead I'd like to celebrate the things I do support… like my president… my governor… and marriage equality in New York! woohoo!