Jul 26th 2011 12:29:53 pm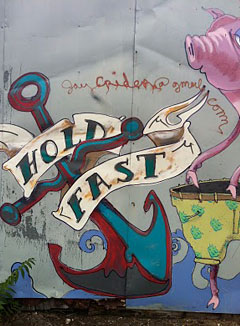 Right now I am sitting in a waiting room at the King's County Supreme Court building. Again. I was chosen as a juror and this is my fifth day hanging out in this waiting room, attempting to get some work done, and trying not to feel like I am wasting my time. I am happy to be a part of the judicial process and to be doing my civic duty, but it is getting more and more difficult to NOT feel like I am being completely disrespected.
This photo is from our Saturday run with Team in Training in Red Hook. I like to think of it as really lovely graffiti even though it is actually part of a mural on a construction site.
It has been quite hot in NYC — even reaching 100 degrees — but I like running in it. It feels like a challenge, one that I have the skills to meet. Heat tolerance seems to be one of my only assets as an endurance athlete. Tonight we are running a timed 5k test…
What are you up to this week?
you may also these posts:
5 Comments » Categories: New York, running, Team In Training, Work
5 Responses to "jury duty"
Leave a Reply