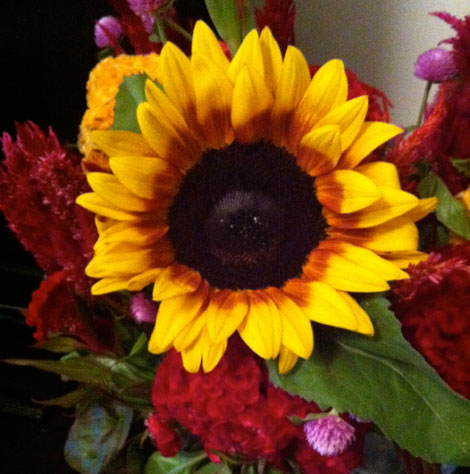 Peaks and valleys. You have to have the valleys in order to enjoy the peaks, right? Well, I have been in an enthusiasm valley for the last two weeks…
Travis got me those colorful flowers on Friday to lift my spirits. He says he likes to get sunflowers because they remind him of Kansas. Very sweet.
A lot of my bummer mood has to do with my marathon training. I still feel like I haven't made any progress and the workouts seem harder than ever, even when I try to take it easy. It is frustrating. Everyone seems to have some sort of solution for me, but basically it all comes down to, "just run faster." Like as if that hasn't been my goal all along… I haven't been a fun person to run with lately. One of my patient and kind Team in Training coaches really summed it up: I need a WIN. I need to have a success that I can feel good about in order to fire up my enthusiasm again. I hope it happens soon.
Work has been very similar… working everyday to get as much done as possible, but never quite accomplishing enough. BUT, the awesome news is that Swap-bot members are pretty great. Many have been helping us with our Team In Training fundraising in exchange for a little swag pack of Swap-bot goodies. I am mailing out 30 more packages today! wow!
It rained all day yesterday, so I just stayed in, rested, and tried to be kind to myself. Hopefully, this week will be an enthusiasm win!