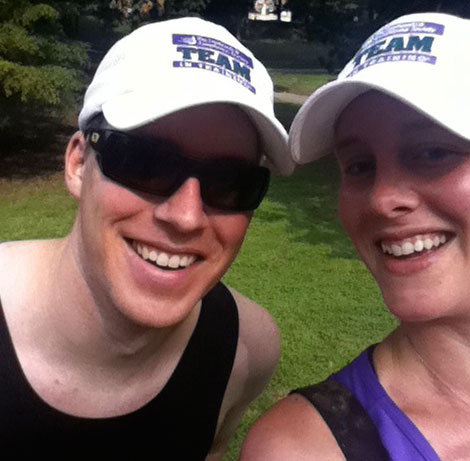 Yesterday was the second annual Battle of Brooklyn race held right here in Park Slope at Prospect Park. The 10-mile race consists of running around the park three times, each time climbing the steep north hill. oof.
You may remember, I ran the race last year and didn't have the best experience. This year was much better. I was smarter about my race prep by eating plain food yesterday and spending the evening on the couch. I felt good during the race and had a plan of doing each loop of the park slightly faster that the last. I guess I was a little overly optimistic, because my plan worked for the second lap, but then fell apart on the third. I just could not run the third lap faster and was totally spent and sore by the time I made it to the finish line. I'm happy that I pushed myself, though, and I did manage to take 4 minutes off of last year's time. Hooray!
Travis was on the sidelines cheering last year, but this year he was in the race. He did awesome, like usual, and finished about 14 minutes faster than I did. Afterward, we got our traditional post-run egg sandwiches from Dizzy's Diner and then Travis had his first ice bath. FYI: "Cryotherapy ("cold therapy") constricts blood vessels and decreases metabolic activity, which reduces swelling and tissue breakdown." Travis loved it! I see many ice baths in our future.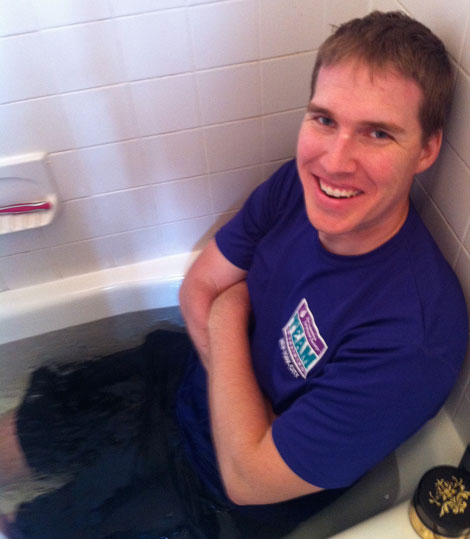 More info: Travis and I are training for the Marine Corps Marathon on October 30th with Team in Training. We are also raising money for the Leukemia & Lymhoma Society to help find a cure for blood cancers and provide services for patients and their families. If you'd like to help, check out our fundraising page. Thanks!