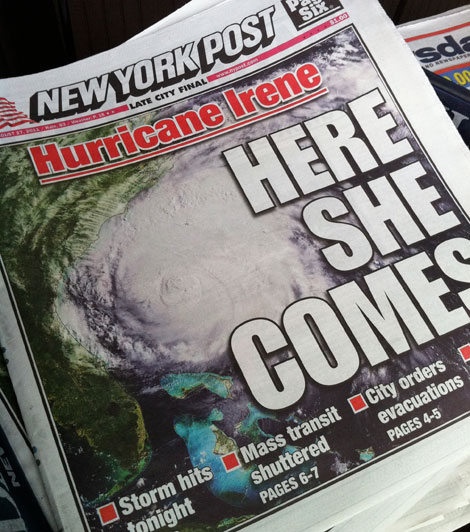 Have you heard? Hurricane Irene is coming to New York City!
The storm is supposed to get here over-night tonight, and right now they are saying it will be a Category 1 hurricane. I am not too worried, but I got a little more concerned when Mayor Bloomberg announced the MTA (public transportation) shutdown and the mandatory evacuation of the low-lying areas. Those two things have never happened in this city before! The city is taking Irene seriously!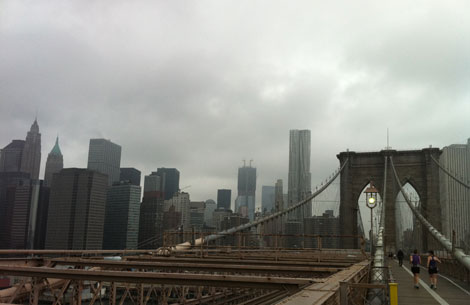 Believe it or not, Travis and I headed out with Team In Training for our group run this morning. I am glad we did. The rain hadn't started and I am glad I got a workout in before the storm starts in earnest. I also took it as an opportunity to take some pre-hurricane photos. We ran from prospect Park, over the Brooklyn Bridge, through lower Manhattan, and then up the West Side Highway. The sky was ominous, with fog covering the tops of the tall buildings, and it was very humid, but there really wasn't any wind.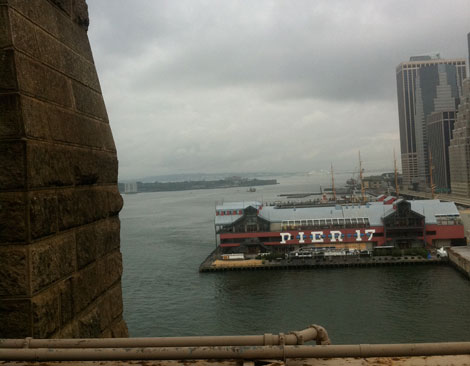 Above is a shot looking south-ish from the Brooklyn Bridge to Governor's Island. (There was supposed to be a huge, 3-day Dave Matthew's Band concert on Governor's Island this weekend, but it was cancelled.) The sky looks stormy, but the East River and ocean seemed quite calm.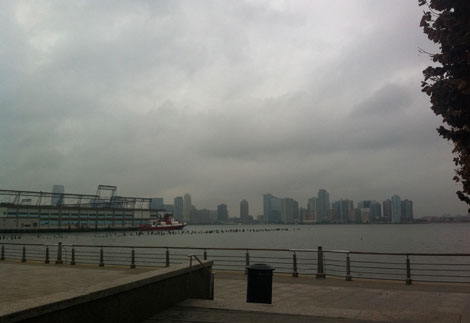 This is the the Hudson River. We ran along the West Side Highway once we got to Manhattan. I had anticipated rocky water and waves, but the water was completely calm. There were lots of exercisers out on the path, but less cars than usual on the road.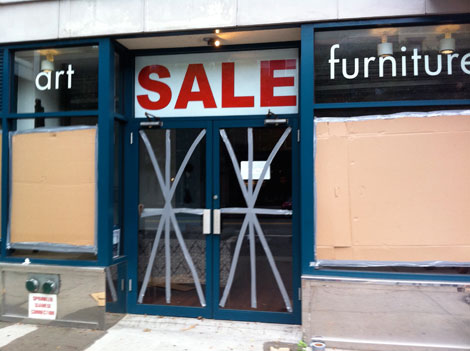 I really didn't notice much hurricane prep. A few shops were taped or boarded up like the one above, but the vast majority were not. We saw some families packing up cars to leave the city, but no one seemed panicked. All of the restaurants and bodegas were still open. I stopped at Walgreens to get extra water (for the run) and there was a long line. People were getting snacks and drinks and toys for their kids.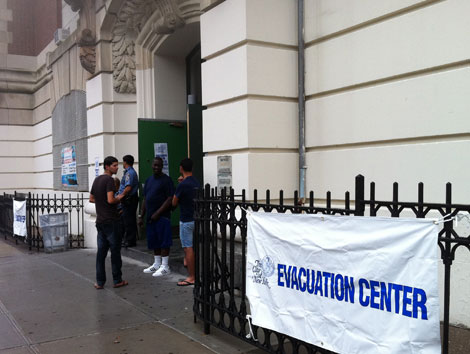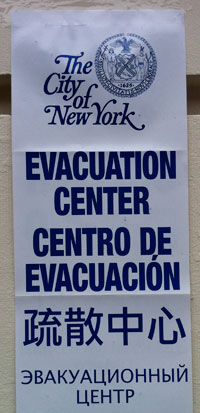 Once we got back to Brooklyn, it started to rain. (Actual hurricane water touched my skin! omg!) The rain didn't seem to deter Brooklynites, though. Our blocks were crowded with people shopping, getting coffee, and generally just hanging out. I don't think many will be leaving the city. We walked past this official evacuation center on our way home. (It is the high school on 7th Avenue and 4th Street, by the way.) The police were just hanging outside the entrance, as calm as could be. I think they were amused when I asked if I could take a photo of the sign.
Travis and I are taking the storm seriously, but not buying into all the frenzy and hype. We have plenty of food and water, and we moved things away from the windows. We may lose electricity, but I really think that is the worst that will happen. I think the city is over-reacting about how much damage the hurricane will do, but I understand that they have to play it safe. As Travis keeps repeating from Mayor Bloomberg's press conference: "Hope for the best, prepare for the worst."
We will be safe. I'll report back after (and maybe during) the hurricane.