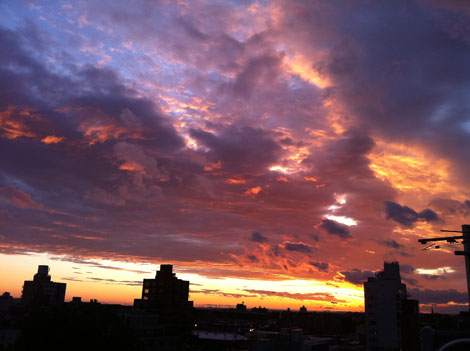 Look at that amazing sky! I guess that is our reward after weathering a hurricane tropical storm. I took this photo looking south from our roof this evening after all of the rain was done. For most of the day, the sky looked like it does below: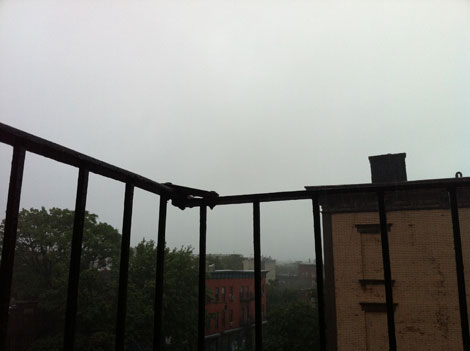 Travis and I went to sleep around 11 pm last night thinking that we would be awoken by heavy wind and rain. We did have a rough night, but it wasn't because of the storm. We had removed our air conditioners and shut all of our windows to be safe and our apartment got extremely hot and humid. I was sweating all night and seriously contemplating going outside to brave the storm just to get cool.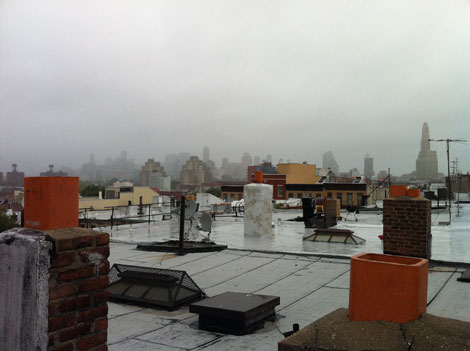 I woke up around 8 am to the sound of our roof door banging. I made Travis go up and latch it and he got soaked. We were sure that the storm was just starting to get bad, so we turned on the news (Andreson Cooper on CNN, of course — he is the news) and settled on the couch for what we thought would be a day of storm watching. I was at home during the Brooklyn tornado last year and that was frightening — fierce wind and sideways rain. We never got that much excitement with Irene. There was some flooding and downed trees across the city, but overall the storm was less severe than everyone had thought. It was just about over by 11 am. I went on the roof and took the photo above of the downtown Brooklyn skyline covered in fog.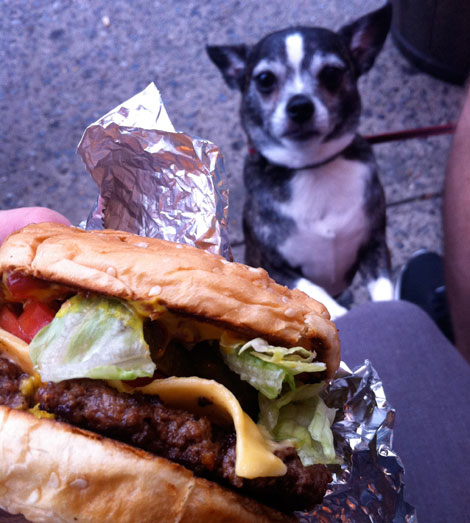 By the afternoon, it was still a little windy and sprinkling on and off, but I guess everyone in Park Slope was stir crazy. Travis and I joined them in the pursuit of open restaurants and coffee places. We ended up at Five Guys and got some food. Crusher was happy to not have to live off of non-perishable rations all day.
Overall, the hurricane was disappointing, but that is definitely a good thing. I know that other areas were not as lucky. For the most part, it will be back to life as normal in NYC tomorrow.