Last night, I attended the book signing event for Decorate, the new book by blogger, Holly Becker. Holly runs decor8, a home decor and design blog. I've been following decor8 for years and was excited to get my hands on a copy of the new book.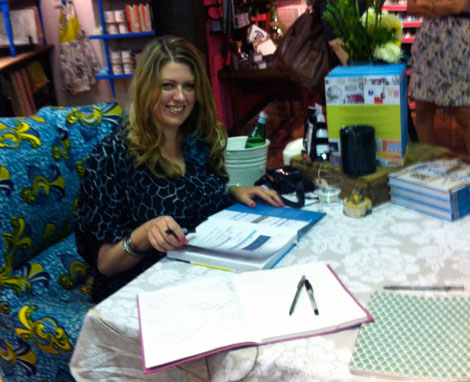 The book signing was held at the Anthropologie store in Soho, and I'd estimate that as many as 100 people showed up for the event. I purchased my book and then waited in line to get it signed. I had fun talking to BKLYN Contessa (Hi Nicole!) and her husband, David, while we waited. Cookies, wine, and sparkling water were passed around while we all chatted and exchanged business cards.
Holly was lovely and friendly when we made it to her. She has been on a grueling book signing tour across the country and this was her last stop. I am impressed she was still so upbeat and sweet.
I am also very impressed with the book. In the past, I've been disappointed by blog-to-book attempts, but Decorate is beautiful, professional, detailed, and huge — 288 pages of design ideas! I can't wait to read every page!