Sep 7th 2011 11:29:35 am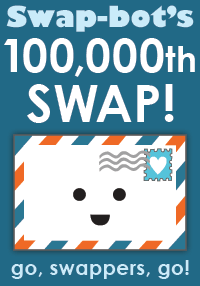 I almost can't believe it, but over 100,000 swaps have been hosted on Swap-bot! Travis and I have been running the site for almost six years and we have over 40,000 members. It is a lot of fun, a lot of work, and a little bit of craziness, but I am very happy to be managing the 'bot as my full-time job.
To celebrate the big milestone, I am hosting a special 100,000th Swap. It is a really easy swap that everyone can join — you simply send one piece of Swap-bot-themed postal mail to your one partner. It can be a postcard, a letter, an ATC, an inchie, anything! The only strict requirement is that your item go through the postal mail and that it has some sort of Swap-bot decoration on it. Come join us and celebrate Swap-bot!
In other business news:
– Jessica and I launched our first Ace Expert Interview today on Ace Department. It is a discussion with Certified Health & Nutrition Counselor, Andrea Moss of MossWellness.com about transitioning to a healthier lifestyle for fall. She gives some easy and practical tips.
– I am feeling energized to post more often one this personal blog (Rachel & the city/RLJart.com). I want to do shorter daily posts that can act as a record of what I am working on and enjoying. I am also excited because I was recently invited to be a part of my friend Crissy's new CleverChicks.com blog round up. I am happy to be a part of a community of female bloggers. It may mean a bit more traffic, but really this blog is not about traffic… it's more about meeting people online and having an outlet to share a bit about my life.
you may also these posts:
1 Comment » Categories: Swap-bot, Website, Work
One Response to "milestone"
Leave a Reply