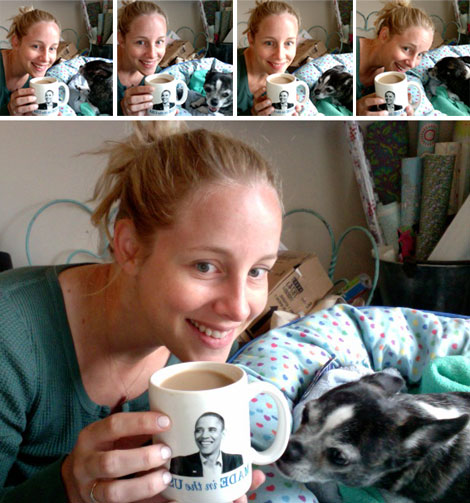 On Thursdays, I take a photo of myself with my morning beverage of choice and upload it to the Mugshot Thursdays Flickr group. Above are my photos from today. Crusher did not want to cooperate. (Also, please don't report me to the authorities as a hoarder because of all the junk in the background. I swear the rest of the apartment isn't that bad!)
I realized today that I have been doing Mugshot Thursdays for over two years! My first one was in June of 2009. It is a little kooky, but Mugshot Thursday was just something that my internet friend, Jennifer, and I started doing on a whim. Then we invited others to join us. It is still a small group, but YOU are welcome to join us – just add yourself to the group and then upload a photo each week with your mug. Or cup. Or water bottle. Or, really, anything. There are no rules, just weird, silly fun.
Two years ago, when I first got Photo Booth on my Mac, I had grand plans of taking a photo of myself every day. Just for fun. Well, and also so that I could make one of those time lapse videos that would show me aging over time. Anyway, every day is too much… but once a week is perfect! Mugshot Thursdays forever!