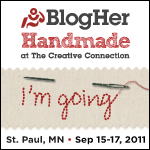 I'm traveling today to Minnesota for a blogging/business/craft conference. The event is actually two conferences combined into a three-day experience.
Thursday is BlogHer Handmade, a conference more focused on the online community and business of craft. I am taking a few business classes (community building, traffic building, and monetization) that day and hoping to learn more about expanding and improving Swap-bot. and Ace Department.
I am excited that Holly Becker is the keynote speaker on Thursday — you already know that I love her blog!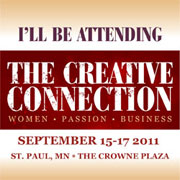 The final two days of the event are The Creative Connection. It is an annual craft convention that includes a marketplace, keynote speakers, and classes. I'm taking a marketing class, a law class, a photography class, and an "inspiration board" class. SHould be fun!
Even though I am sure I will learn new things, my main goal of the conference is to network and meet new people. Since I work from home, it is nice to have an opportunity to get out and interact with other humans. Ill be sure to report back on the entire event!