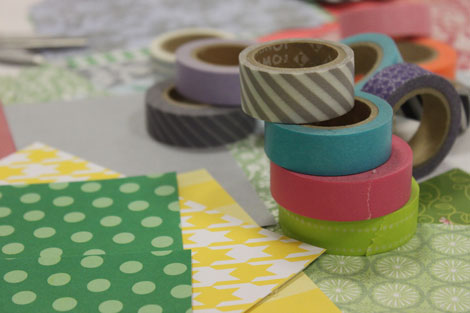 I am trying to wrap my brain around my experience last week at The Creative Connection/BlogHer Handmade conference while also trying to catch up on work here at home. It was a great event, but also overwhelming. So many new people to meet, so many sessions, so much info… so many tweets to send!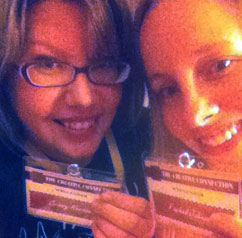 The event was held in a lovely hotel right on the Mississippi river in downtown Saint Paul, Minnesota. I shared a hotel room for the conference with Crissy, the owner of IndieBizChicks.com. She had the awesome job of hosting and speaking on a panel during the BlogHer Handmade portion of the event. The panel was titled "Using Content and Community to Grow Your Reach" and she did a great job. I was in the front row and snapped the photo below. (You can read Crissy's recaps of the conference here and here.)
There were approximately 2-3 sessions per day, plus keynote speeches at the lunches and dinners. Since I have been to a few similar conferences before, I had already heard a lot of the info about using social media and blogging to promote your business, but it was still interesting to hear the stories of how other women created and run their businesses. There were a few "a-ha" moments during the more inspirational talks. These are a few of my favorite quotes:
"Work/life balance is like juggling several balls – some are glass and some are rubber. Don't drop the glass ones." – Stacy Julian of Big Picture Classes
"A happy ending is possible from any beginning." – Holly Becker, decor8
"The difference in you is your super power." – Karen Walrond, Chookooloonks.com
Everyone needs a little shot of inspiration every once in a while… It helps me to be reminded that running my own business is not so weird and that success is a possibility.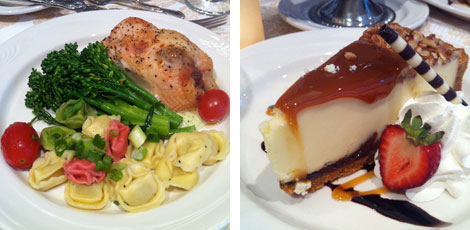 I had to include a photo of the food! We had some great meals and very tasty desserts. Starbucks was a sponsor, so there was always coffee to be had and we each got to take home our own big bag of beans. We were also given little bundles of swag at each meal. My favorite was the "Aspire" necklace from The Vintage Pearl that we received at dinner the first night. Very sweet. And, amazingly, I also won a Cricut Expression machine in a random drawing at lunch the second day! It is a machine that cuts intricate shapes out of paper and fabric — I am very excited to try it out! (It is being shipped to my apartment.)
The Creative Connection was sponsored by Sterling Publishers and Where Women Create magazine so there were lots of books, magazines, and authors at the conference. I couldn't resist purchasing the new Celebrate: Where Women Cook book and had it signed by the author, Jo Packham.
There were many crafty internet "celebrities" — hey, they are celebrities to me! — at the conference, and despite not wanting to be an annoying fangirl, I posed for a few photos with some of the very sweet, creative women…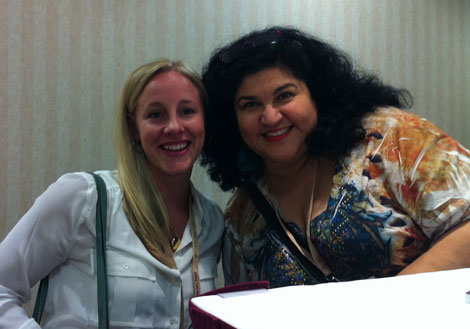 Crafty Chica spoke on a couple of the panels. She is an awesome, positive person who basically has a craft empire. She blogs, write novels, and even has her own line of craft supplies. I was pumped to get some of her glitter in our swag bags!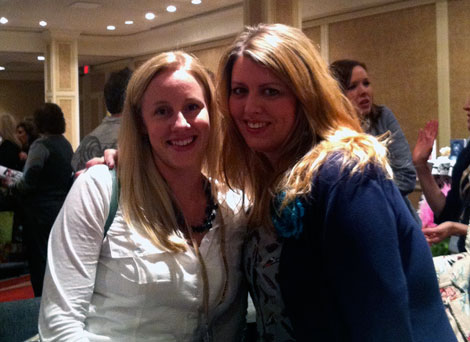 I've already gushed about Holly Becker from decor8, but I really admire her. She gave the keynote speech on the first night and was just wonderful. She talked about her life and growing her blog and business. She just seems like a very authentic, kind, professional person and I plan to keep following her story.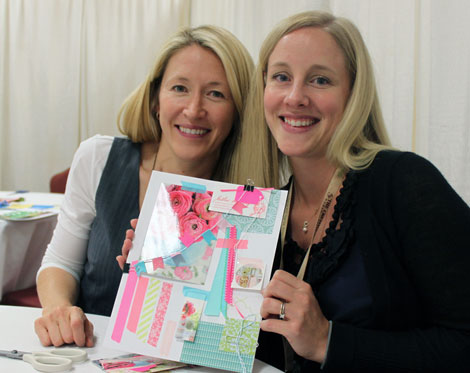 On the very last day of the conference, I finally got to take a true crafting class. (I was trying to be a good business lady and took all of the educational, business classes prior to the last day. Trying to learn how to do this whole LLC thing correctly…) My craft class was Inspiration Boards with Leslie Shewring of A Creative Mint. Leslie was awesome, so stylish and nice, and we had fun playing with pretty paper, washi tape, ribbon, and Leslie's own beautifully styled photos. We created color-based inspiration boards that can be used as a starting point for larger design project. I loved it and wished that I had taken all crafting classes at the conference… next time!
———-
If you'd like to read more about The Creative Connection/BlogHer Handmade, check out these blog posts from other attendees here, here, here, here, and here.
For Swap-bot users: I am hosting a giveaway on the Swap-bot blog for a giant pile of some of the conference swag. Go comment to enter!