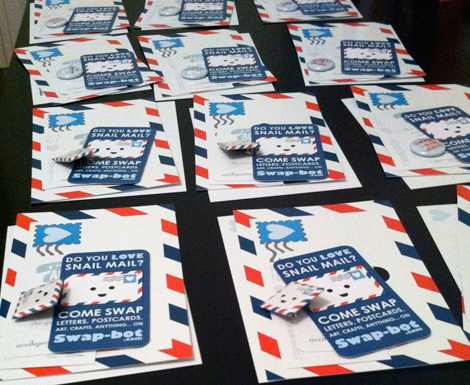 Just over a week ago, I got back from a big, creative, business conference, and for the last two days I was "attending" a virtual business conference, listening to informative sessions via the phone…
My brain is reaching business info overload. Yet, despite reaching my saturation point, all of the advice, and tips, and info has me thinking about how I run my own business. I thought a few people may be interested in just what it is I do all day. And what I do is build communities. Mainly at Swap-bot, but now also at Ace Department.
I've written about my work on Swap-bot before here, but what does my day-to-day work look like?
Email – Lots of customer service email! Answering questions and fixing mixups and minor problems on the 'bot is my main job. I also do plenty of more business-y emailing (like talking to design clients, lining up sponsorship and advertising on Swap-bot, setting up special blog posts, coordinating event logistics, etc) but customer service is the bulk of it. I don't use automated or copy-and-paste responses. I type out each email individually. It means for more typos, but also more personalization. If you contact admin at Swap-bot, the owner of the site (me) will write you back. Maybe not quickly, but eventually. You can't say that about many other websites. It may not be a perfect or incredibly efficient system, but I think it makes Swap-bot special… and I hope that it shows my dedication to the users who make Swap-bot the fun community that it is.
Blogging – I write 1-4 blog posts a day between here, the Swap-bot blog, and Ace. Blogging is one of my favorite activities, but it is definitely time consuming. I share crafty stuff on Swap-bot, business-y stuff on Ace, and everything else here. Blogging original, quality content that your users want to read is the best SEO tactic, no matter what any other social media consultants tell you.
Social Media – Twitter (rljart, SwapbotNews, and AceDept) and Facebook are the two daily biggies, but don't forget Pinterest, Flickr, Goggle+, LinkedIn, and Tumblr. It may seem silly, but I actually spend a good amount of time writing and posting tweets. It is another way to communicate with our users and it actually results in hundreds of click-throughs per week.
Design – I take on a few freelance design jobs, but I am really trying to cut back. It sounds more impressive and romantic to say you are a graphic designer rather than a web administrator, but design is difficult and very time consuming. Plus, the money just isn't there. Even a fairly high hourly rate doesn't turn out to be very profitable and it pulls me away from working on my sites. I prefer to design cool things for Swap-bot and Ace, like postcards, business cards, buttons, and web graphics. (Just an FYI if you are looking to hire a web designer: real websites cost thousands of dollars. Do not trust someone who says they'll do it for $200. Seriously.)
Miscellaneous – There is a lot of miscellaneous! Today I am packing up hundreds of little Swap-bot swag bags (seen above) that will be sent out to craft shows around the country to be included in their gift bags. Sometimes I do some crafting for swaps I am participating in. I take lots of trips to the post office. I look over every new Swap-bot account and weed out spammers and trolls. I read blogs and tweets looking for interesting things to share with my readers. I fiddle with this blog. I edit and upload photos. I manage the accounting and check over site stats and analytics. I visit the Ace and Swap-bot forums and join in on the discussions. I visit users' blogs and leave comments. I listen to podcasts and instant message with colleagues. I take Crusher out for walks and finish up the laundry…
It isn't very glamorous and it is a lot of unending work, but I enjoy it. I love working for myself and I believe I do more and better work on my own than I ever could for someone else. I am also very dedicated to facilitating supportive, creative communities. Even when the email gets overwhelming, that purpose drives me.
My uplifting thought for today: art + community = a better world.