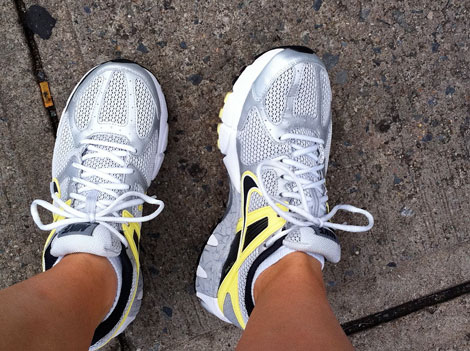 Running is difficult. SO difficult. I am training for a marathon, but no, I will NOT qualify for Boston. Not even close. People like to ask that…
I know that I sound like I am just being self-deprecating or silly when I say this, but I am terrible at running. Truly. I am slow. It is painful. I am often feeling discouraged.
BUT… I am not terrible at facing a challenge. I will always be grateful to running for showing me that — allowing me to know that I am strong, without a doubt.
I ran my longest run of the training season yesterday. 18 miles. It is the longest run I will complete before the Marine Corps Marathon on October 30th. It was 3.5 hours of moving my legs across pavement. It was difficult, and tiring, and painful… and exhilarating, and encouraging, and a little fun.
Endurance running isn't complicated. Just get some good shoes, eat enough fuel, and drink enough water. The rest is just staying mentally strong and enduring pain. I don't like the pain, but I like the challenge. I like knowing that I can be fatigued and in pain and keep going. (I should add, even though it isn't complicated, endurance running shouldn't be jumped into… I have been working my way up to these long distances for over a year.)
Here I am yesterday at an earlier stage of the run, feeling quite enthusiastic:
Travis and I are training for our marathon with Team In Training. It is a wonderful organization and we are all raising money for the Leukemia & Lymphoma Society. If you'd liek to donate, check out our fundraising page.