In an attempt to be a little less aggressive with the running talk this year, I've neglected to report on the current state of our training! Travis and I run the Marine Corps Marathon in Washington, DC, this Sunday!! Eek. I am nervous. But ready. I think I am ready.
At the end of September, we ran the 5th Ave Mile, a quick one-mile race down Fifth Avenue. Of course, we ran the 12 miles there from Brooklyn as part of our training, so my race time wasn't exactly a speed record. It was fun, though. Such a quick, little race! (That is me crossing the finish line above. Here is Travis.) Of course, we had brunch afterward.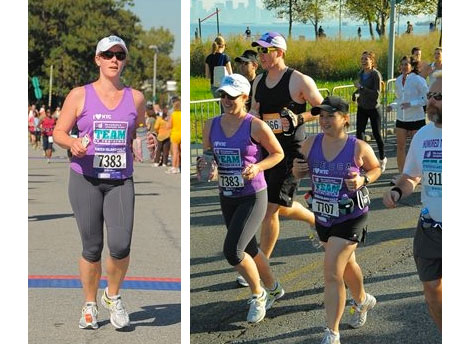 Just two weeks ago, we ran the Staten Island Half Marathon (photos above). It was our last race before the full marathon and it was setting up to be my best event of the year. Travis and I ate correctly in the days leading up to it, we rested, and I created a seemingly perfect race plan for myself that would have given me a near PR. Despite problems with the Staten Island Ferry (we waited for over and hour and were late to the race), my run started out great. I was following my plan and sure that I was going to finish better than ever. But… at mile 10 it sort of all fell apart. It got hot. I got really sore in my feet — weird — and I just couldn't finish strong. My time was still my best half marathon of the year, but I was six minutes slower than my goal. I would be totally fine with my result, except that the SI Half was meant to be a mini version of my marathon race plan. The fact that I couldn't quite pull it off makes me worried about what I can realistically accomplish in DC on Sunday.
My goal, of course, is to finish the MCM in under 5 hours. I don't know if it is possible. I am creating a couple race plan scenarios, but I think the most important thing I can do is stay calm, relaxed, and slow in the beginning. It is hard to escape the excitement and second-guessing that happens at the beginning of a race, though.
So many aspects of endurance running are mental challenges. For example, right now we are in the "taper" segment of our training. Basically, in the last few weeks before a big event, you cut way back on your mileage and try to rest up. But the taper can play with your mind. As your body repairs, you get little aches and pains that freak you out (I had a calf cramp the other day for no apparent reason) and you start to convince yourself that you need one more big run before the event. I imagine it is sort of like people stranded on a raft at sea who can't take it any more and start drinking salt water. Runners have a hard time resisting running during the taper. I think Travis and I will stay strong, though.
Tonight is our last TNT Group Training Session before our race. We won't run a lot, but I am wearing my marathon outfit just to test it all out one more time. Gotta make sure it is all perfect! After that, all we can do is rest and try not to succumb to taper madness…