Washington, DC!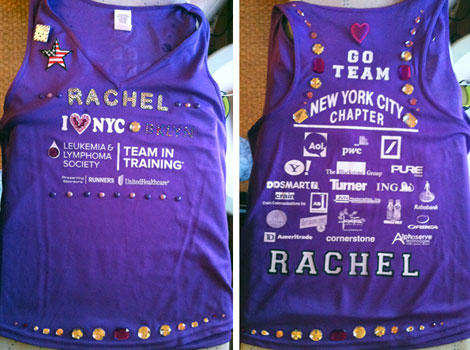 Here we go! We are off to DC today on the TNT bus. We'll be stopping by the Marine Corps Marathon Expo tonight to pick up our race numbers, having a team pasta party tomorrow, and then Sunday morning, we run. I am excited and nervous… but my singlet is decorated (with many jewels), my nails are painted purple, and we've packed a giant bag of pre-race food… so I think I am ready.
My bib # is 32036. Travis is # 32037. You might need that info if you want to track us during the race via text message or social media. I will be tweeting my progress on @rljart and I'll be posting some race day info to Facebook. But, this year I am going to try to concentrate a bit more on racing and try not to wear out my phone battery like last year…
My internal mantra is, "This will be my best race ever." A little ambitious maybe, but it could happen. The weather is supposed to be perfect on race day and I am feeling very healthy. I guess we'll see on Sunday!
Thank you so much to everyone who donated to our fundraising efforts for the Leukemia & Lymphoma Society. Travis and I are so happy to be running with Team in Training.