I am so happy. Sunday was one of the best days of my life. I ran the Marine Corps Marathon – my third ever marathon – in 5:00:03 and felt amazing the whole time.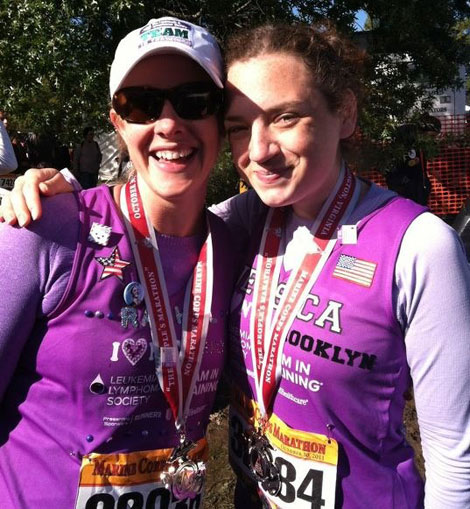 It is not often as adults that we get to experience something truly fun, emotional, and inspiring, so I am trying hard to savor every last detail of my Marine Corps Marathon experience this weekend. If you have some time, read on for my complete play-by-play…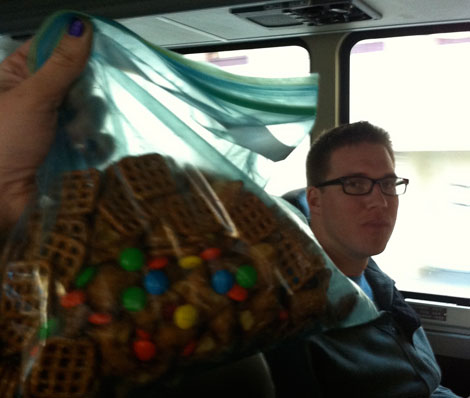 Two Days Before: On Friday, after dropping Crusher off at our incredibly kind friend, Lauren's, house, Travis and I boarded the TNT team bus in midtown for the trip to Washington, DC. We left NYC around noon and immediately started snacking on the carbolicious snacks I had brought for the trip. (Above is our "happy mix" selection of pretzels, peanut butter pretzels, and dark chocolate MnMs.) I mention the snacks because I think that carbs had a lot to do with how I felt on Sunday…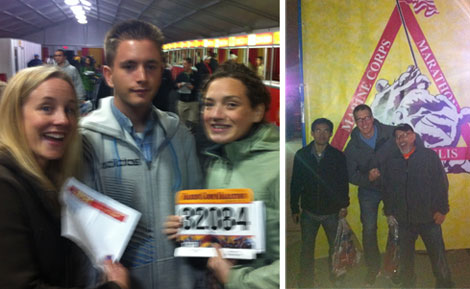 Of course, all of us on the bus were freaking out about what we were heading off to do. Thank goodness Coach Amy was there to calm us down and make us feel like we were ready. We got to the hotel at around 5pm, then headed to the MCM Expo to pick up our race numbers and so-bad-they-are-pretty-amazing mock turtleneck race shirts. A group of us went to dinner at a pub near Dupont Circle (I had salmon and mashed potatoes with a hefty side of ginger ale), and then we HAD to stop at the frozen yogurt place near the train station. Then Travis, Jessica, and I headed out to Bethesda to meet our friends and cheer squad captains, Becca and Casey, for a slumber party.
Marathon Eve: Becca's sweet parents, the Shapiros, generously hosted us on Friday night and fed us delicious blondies, cookies, fruit, and breakfast. The five of us Brooklyn "kids" had a lazy, leisurely Saturday morning and then headed to the Original Pancake House – Becca's perfect recommendation since Travis only wanted to eat pancakes on the day before the race. (I had two pancakes with syrup and some of a spinach omelet. BTW: I am recording all of my food for future reference since it seemed to work so well.)
We weren't done with all of our pancake eating until late into the afternoon and then it was time to head back to the hotel and prep for our Inspiration Dinner with Team in Training. It was freezing cold and SNOWING in DC by this point. We really did not know what to think about how the weather was going to be on Sunday. The forecast said sunny, but it was hard to believe…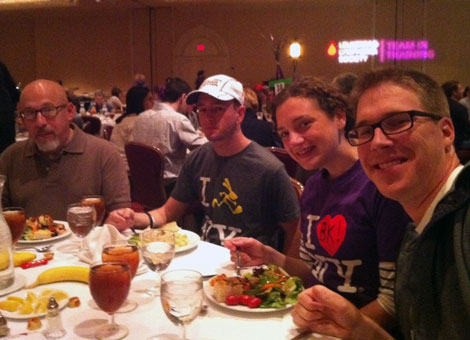 The inspiration dinner was fun. It was good to be with our Brooklyn teammates and eat some pasta. salad, and bread. We learned that Marine Corps TNT participants raised over $900,000 dollars for the Leukemia & Lymphoma Society. (Thank you to all my donors who helped contribute to that number!) John Bingham (aka "The Penguin") was the speaker and he reminded us that even the hardest part of the marathon was easy compared to a day on chemotherapy and that we were lucky to be healthy enough to run. He also said we should kiss a Marine at the finish line.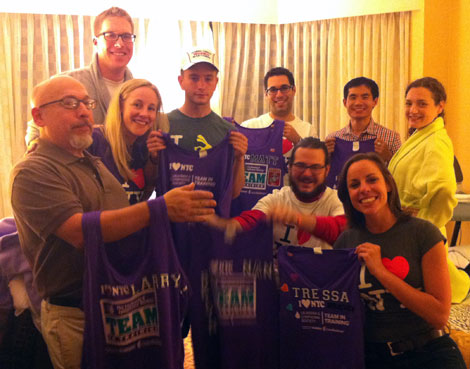 After dinner, the Brooklyn team came back to our hotel room to do some final decorating of our race singlets (tank tops). I had brought some iron-on letters and we added everyone's names to their tops so that they could receive lots of personalized cheers during the race. I think we were all a little nervous, but everyone seemed pretty calm and ready. We had a lot of fun.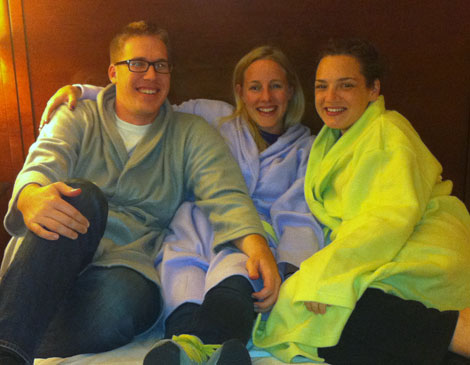 Jessica stayed with us in our hotel. We each laid out all of our race gear and we were in bed by about 11. Sleep didn't come easily, but I think all three of us got some good rest.
Pre-Race Thoughts: This is where I tell you about where my mind was at before the race… or, I record it for myself, at least… I was feeling completely positive going into the MCM. I was determined to soak up the weekend experience and enjoy the company of my sweet husband, my ten running teammates, four Brooklyn coaches, and five amazing, traveling friends who came to cheer us all on. When else would I have the opportunity to go on a fun adventure with such a diverse, kind, incredible group of people?! I was going to enjoy it all! BUT, I was also preparing myself for a repeat of my experience at the NYC Marathon last year. I had a great time running NYC with TNT, but it was very difficult and very painful. I was ready to face the pain and ready to put forth my best effort again at MCM even if it was difficult. I had a goal of running it in 4:59:59, but I really wasn't sure it was possible and I was trying to convince myself that it would be totally fine if I didn't get close. I printed out the 5 hour pace card seen here and taped it to my phone. My plan was to run the first few miles slower, between 11:40-12:00 pace, slowly get a bit faster throughout the race, and then kick it in to make up time during the last six miles. I really did not know if I could accomplish negative splits, but I was going to try my best to run a smart race. I also gave myself a very strict nutrition plan to follow during the race. I packed over 1000 calories of fuel and planned to force myself to eat most of it.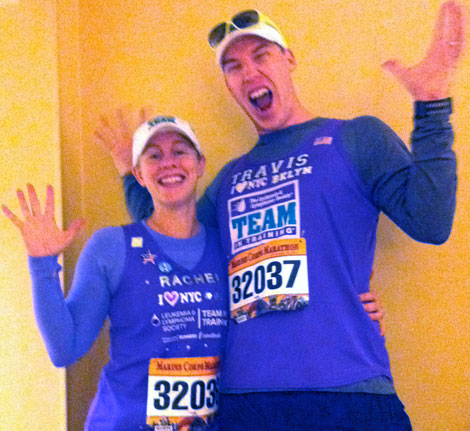 Race Morning: I think all of us woke up without the help of an alarm on race morning. I was up by 4:45 am. We dressed in our race gear and stuffed all of our pockets with Gu and other sugary fuel. Then we put on our warm, throw away items – robes, pajamas, or snuggies, depending on the runner — and packed our clear, plastic, check bags.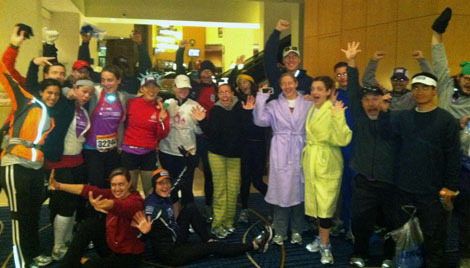 We met the full NYC TNT group in the hotel lobby and then took the DC Metro over to the race starting area near the Pentagon. I don't think the Metro system was built to handle such large groups of people and the delay was a little stressful, but we made it to the start area in time and even had enough time to use the porta potties before getting in the immense starting line. It was cold, but our awesome $10 robes kept us warm. In a somewhat last minute (but as it turns out, smart) decision, I ate a 180 calorie S'mores flavor Luna Bar right before heading to the start line. I also had one Advil and took two electrolyte pills.
The Start: The starting line was on the highway near Arlington Cemetery. The MCM didn't use a wave system like the NYC marathon and it only loosely had corrals based on your anticipated end time, so basically we were just a ragtag group of 30,000 people standing on a highway in the cold waiting for the clock to strike 8 am.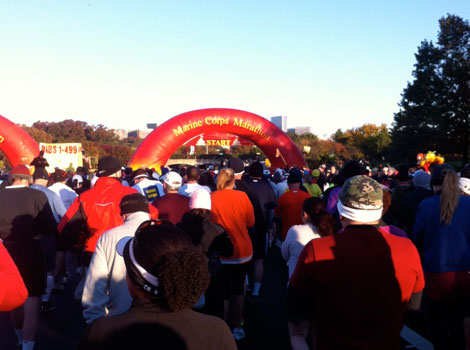 There was a loud flyover of giant helicopters and some music was playing… then the start was announced!! It took us a while to start moving back in the 5 hour pace group. Then, we slowly made our way to the start line. I think we ended up being about 20 minutes behind the gun time. I was so excited and happy that I didn't really even find time to feel nervous. We just started running!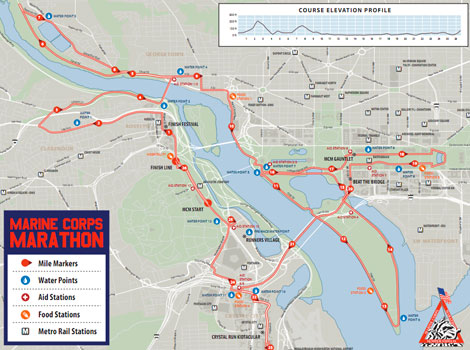 Miles 1-2: Travis and our teammate, Mike, stayed with Jessica and me for the first few miles. We were all still wearing our robes when we saw our Coach Jim on the sidelines at the first mile marker. Everything was going so fast, but Jessica and I were determined to keep ourselves going at a very slow pace. I think our fist mile was around 11:30, but we wanted to be around 11:45, so we slowed a bit. I don't remember much about the course here… it was through Rosslyn, Virginia. Then we entered a hilly, wooded area. It was really pretty to see the sun rising through the trees.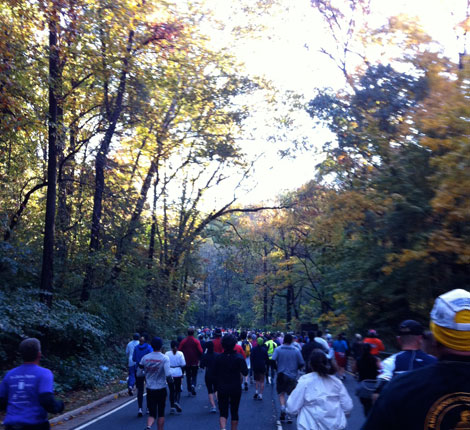 Mile 3-4: I took off my robe around mile 3. It was sad to leave it by the side of the road… I also decided to start my fueling process early and opened up the Twix candy bar I had packed in my water bottle pocket. During the NYC marathon I had only eaten 300 calories worth of fuel during the race. It was not enough, but by the second half of that race I was too tired and brain dead to even consider eating more. I was determined to front load my eating during the MCM to avoid that same problem.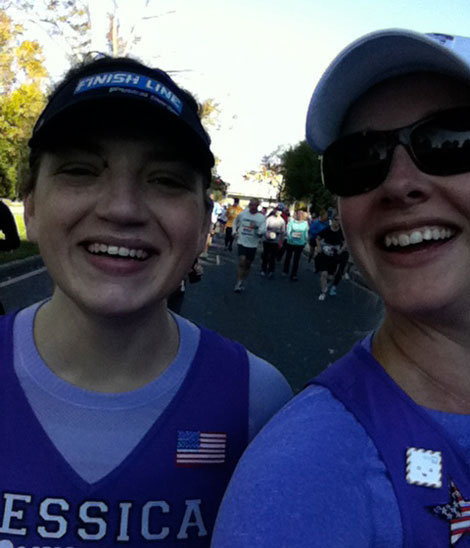 Miles 5-8: Jessica and I had only agreed to run the first few miles together and then split up whenever it was necessary, but we both just seemed to keep going at the same pace and so we stuck together. I am so glad we did! I don't remember much about miles 5 through 8. I know that we were running along a pretty section of water and that Jessica had to remind me to slow down quite a few times. I was feeling great and continued to eat. I had Margarita flavor Shot Blocks to get some salt in early in the race. At mile 7 we climbed a hill and then entered Georgetown.
Miles 9-11: We ran through Georgetown and thought it was a very cute area — complete with a LuluLemon!! A TNT coach (Coach Chuck from Virginia) with an Uncle Sam hat came to ask us how we were doing. We were doing just fine and I was having a lot of fun. We picked up orange slices from the official food station outside of Georgetown and then continued on along the water. I think I also ate a chocolate PowerBar Gel at this point. It had caffeine in it and it gave me a boost. Jessica had to remind me again to slow down. In the distance around mile 10 I saw the Lincoln Memorial and told Jessica, but then I got worried that I was totally wrong and didn't really know where we were exactly on the course. It turns out I was right, but I didn't confirm it until after the race when I saw a map…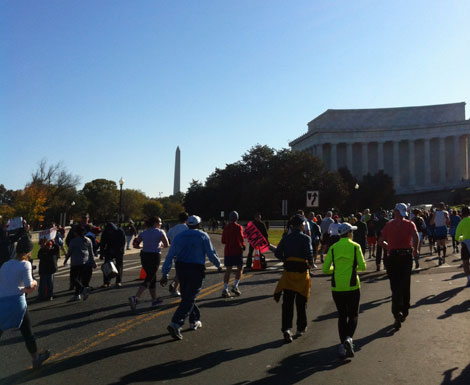 Miles 12-15: We entered a nature preserve area at around mile 12. I don't know if we were running on a road or a bike trail… I think it was a road. It was a calm flat area with lots of trees and grass, and it was where I started getting a little confused/baffled. I was not feeling any pain! During NYC I knew I was in trouble by mile 11 and was already in pain… but during MCM I was just enjoying myself and having a ton of fun! I did feel some slight twinges of pain in my left knee and right hip at this point, but they were nothing that I was worried about. Jessica and I were also really impressed that we were still totally following the race plan that Coach Amy had put together for us.
We saw Coach Radie around mile 14, I think. She was sweet and calm, like always. I think I grabbed a Gu at the official food station, but I didn't eat it since it wasn't my brand — just stuck it in a pocket for later. I also forced myself to take a glass of Gatorade and fill up my bottle of water at nearly every fluid station. I really don't like drinking Gatorade (it makes your mouth so sweet and sticky. ick.) but I wanted to sneak in as many extra calories as possible. My sweet friends, Becca, Brian, and Casey, texted and said they were waiting for us at Mile 17 right under the Washington Monument. I didn't want to be eating when I saw them, so I forced down another pack of Shot Blocks (mountain berry flavor with caffeine) and took a second Advil and some salt.
Jessica had to make a pit stop at this point and I told her I would keep going at an easy pace and stay to the side of the road so that she could find me again.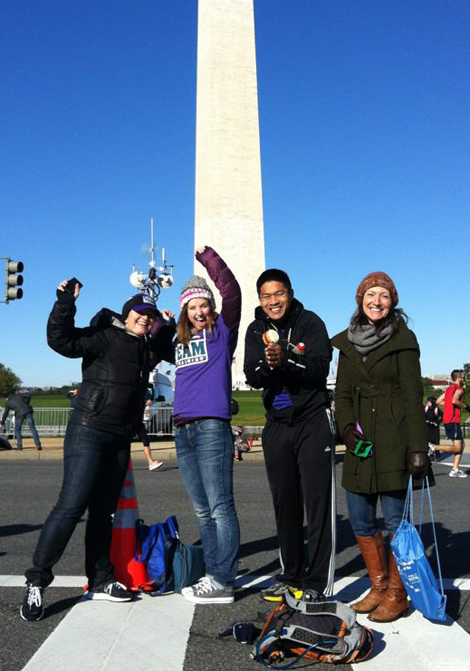 Miles 16-18: I was alone for just a bit and I started to get butterflies in my stomach. Why was I feeling so good and when was the pain bomb going to drop? Was it possible that I was going to actually get my goal time? I was afraid I would jinx it if I got too confident and I tried to keep my emotions in check. That was impossible when I saw my friends at Mile 17.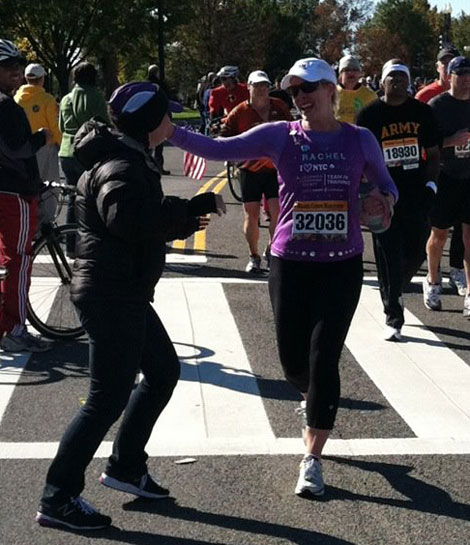 I couldn't help but cry when I saw Becca, Casey, Emily, Tony, and Brian. They had driven all the way to DC just to cheer us on! Becca had trained all season with us to run the MCM and then had trouble with her asthma and her doctor told her she wasn't allowed to run. I know it wasn't easy for her, but it meant so much to me that she still came down to DC with us and was so supportive. I gave them each a hug and probably breathed nasty smelling breath all over them, but I don't think they minded.
During the NYC marathon I cried when I saw Travis at mile 18 because I was in so much pain and scared I wouldn't finish. During MCM, I cried when I saw my friends because I was so happy and thinking that I might actually be able to reach my time goal! What a difference! I was really running on air. I felt incredible. I couldn't believe that I was feeling almost no pain. I was having fun!
I turned around at about mile 18 to take a photo of the Washington Monument (probably a dumb idea — I could have tripped) and I was running by the Smithsonian art museum thinking I would love to go inside when I heard Jessica call my name. I was so happy she found me! She caught up to me and we continued down the National Mall toward the Capitol building.
Mile 19: I picked up some energy jelly beans at the official food station at mile 19 and ate them quickly. Then, we saw Coach Joel.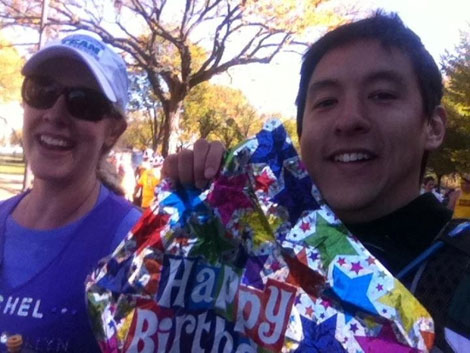 It was Joel's birthday on Sunday and he spent it in DC supporting our team and running with each of us down the Mall. I had wanted to bring something for him and the only thing I could fit in my pack was a flat birthday balloon and some glitter… but I think he liked it.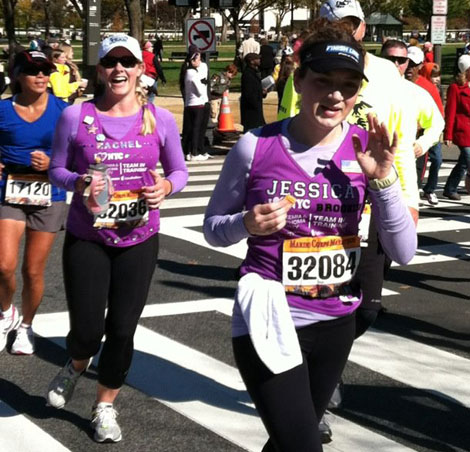 Mile 20-21: We saw our friends again at mile 20 and I asked Brian to jump in and run with us. I was still feeling really good, but I knew that mile 20 was where we had to start picking it up if we were going to reach our 5 hour goal. By my calculations we had to shave four minutes from our current projected finish time in order to do it and I wasn't sure if it was possible. I asked Brian to try to keep us under 11 minute miles.
Mile 20 is also the "Beat the Bridge" spot of the Marine Corps Marathon. If you don't get to the bridge by a certain time, you are taken off the course. Thankfully we were well within the time limit. Coach Amy jumped in with us at this point too and we continued across the long, concrete bridge. We were running pretty fast (for me) and I didn't know if I'd be able to keep it up for six miles… Brian was so awesome and it felt so good to have a friend there helping me out.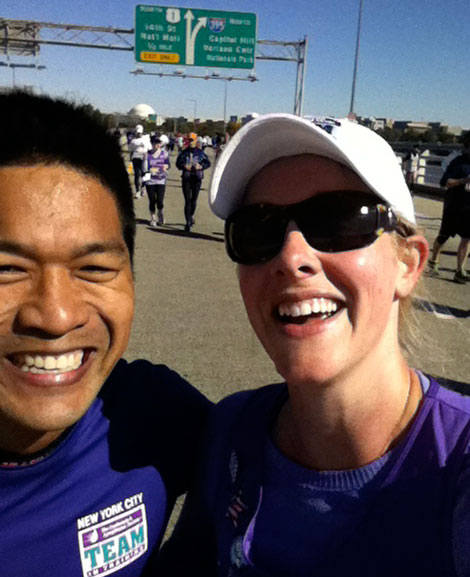 I forced myself to eat one last chocolate PowerBar Gel on the bridge and I also grabbed part of a fruit roll-up from an unofficial food station on the side of the road. Supposedly, there were donuts being handed out somewhere around there, but I didn't see them. I was starting to get tunnel vision and just concentrated on my running.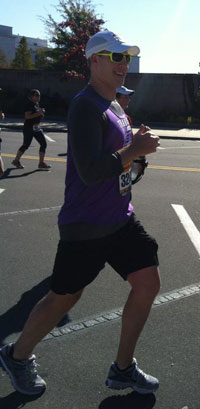 Mile 22: At around mile 22 we got to the Crystal City section of the course, which incidentally was where our hotel was located, but also an out and back section where you could see runners coming from the opposite direction. Travis spotted me at mile 22. He was at mile 24 and he called my name. I ran over to him and we had a quick kiss and I told him I loved him. I was so happy I got to see him. Not being able to see him run and cheer him on was one of my only regrets of running MCM together, but at least we had one quick moment. I told him I might make my time goal, but internally I still wasn't totally sure that it would happen.
Mile 23-26.2: Brian peeled off at mile 23. He had already traveled over three miles from our friends and had to get back to them. He told me that the last 5k was mine and I was feeling determined, but it was starting to get difficult.
I can't believe it didn't happen until mile 23, but I finally started feeling like I was running a marathon. My legs were sore and heavy and I was worried I wouldn't be able to keep up my fast pace. I think we were running under a 10:30 pace which is semi-fast for me on a normal day and kind of unbelievable at mile 23 of a marathon. I like pushing myself, though. I want to know what I am made of and how I will react when things get tough. That is the whole point of running a marathon for me — to test myself.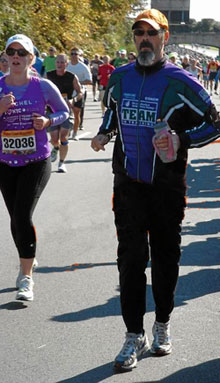 Everything gets so dramatic at the end of a marathon. I was starting to lose Jessica ahead of me and I knew that we still had to pick it up if we wanted to get in under 5 hours. I couldn't do the calculations anymore in my brain, and just decided that to get my goal I'd have to run my fastest, so I didn't really need to check our time on my phone anymore — just run. And then a miracle happened… Coach Jim appeared at our side!
It seems silly now to get emotional about it, but having Jim there was so incredible. He knew our goal time and he knew we were close. He told me to stop talking and just run. He pushed us. I started chanting under my breath. I do that when it gets really tough. My mantras were "I'm ok. I'm ok." and "Have faith. Keep running." I just thought that if I kept running as hard as I could I might just get under five hours, but I had no idea what the time was at this point.
We pushed on and I can't really remember what was happening on the sidelines or where we were. We were on a highway I think. Then we had to run down a circular off ramp, a "do-si-do" according to Jessica. I know that I realized that we were back at where we had started the race near the Pentagon and that it couldn't be that much farther. I saw my friend Emily on the sideline, but couldn't really even wave.
At the final water station after mile 25, I saw Larry. Larry is one of my favorite people in TNT. We have done the last three seasons together and this season all I wanted to do was keep up with him during the marathon. I didn't think it was going to be possible. When I saw him I wanted him to come run with us. I told him I was dying, but he said "No, you're living!" It sounds a bit cheesy in retrospect (and Larry says he doesn't remember saying it), but that was my mantra for the last mile.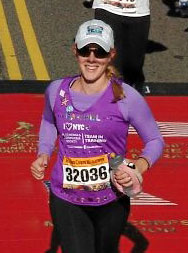 I lost Jessica at the end. Coach Radie jumped in with her and they were just ahead of me. Coach Jim stayed with me, though, and carried my pink water bottle. I feel almost guilty about how much support we got from our coaches. Who am I to have a personal coach pace me and run me in for the last three miles of a marathon?! I am not an elite runner. I am not wealthy. I am not a movie star or an athlete. Team in Training is just amazing and they made my race unforgettable.
At exactly mile 26, I saw the killer hill at the finish line. I think I told Coach Jim I couldn't do it. I saw Jessica sprinting up it and I knew I should try harder to catch her, but I felt my first and only feeling of defeat during the whole race. I stopped running for just a moment on the hill and walked a few steps, but then I guess I started running again. Jim had to leave the finishing chute. I think I was running. I can't quite remember how I got up the whole hill. I know that I raised my hands above my head at the end (that had been my original plan for my finisher photo) and I crossed the finish line.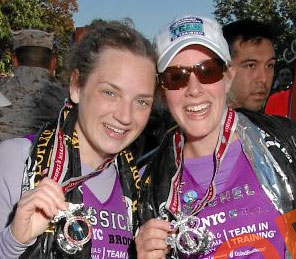 Jessica was waiting for me right over the line. I stopped the clock on my phone and it said 5:00:39, but I knew that I had started it a little early before the start… We didn't know if we had made our goal, but I was happy! In line to get our foil blankets and medals I got a little light headed and wobbly, but otherwise I was ecstatic. I was happy to be with Jessica and happy to have had such an awesome race.
We had to walk and walk to get some water and food at the hospitality station. Then we had to walk and walk to go to the bag check. Then we had to walk and walk to get the the TNT tent to check in. I think we probably walked three extra miles after the race! But when we got to the tent, all of our friends were there! Travis was there, and Amber was there, and my sweet mentee, Nathan, and Brian, and Becca, and Casey! So awesome! So fun!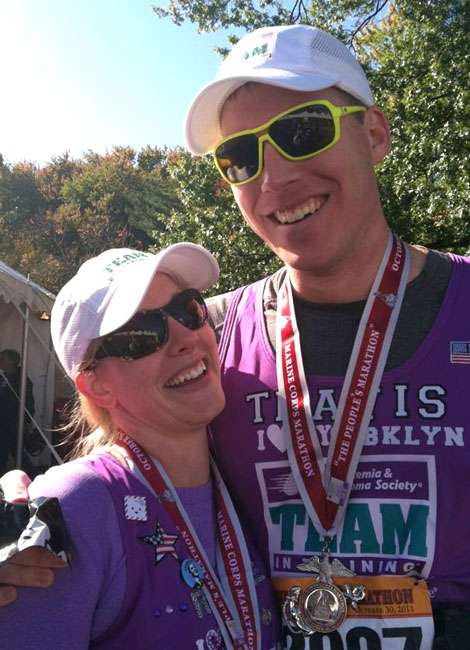 I really had the best race of my life. I can't believe it went exactly according to my plan! Obviously, I regret not going a tiny bit faster on that hill so that I could say I got 4:59:59, but I am ok with 5:00:03. I don't think I would give up any of the fun I had on the course for those three seconds. It was an amazing day.

A lot of things lined up (my training, the weather, my awesome friends) to make this a great event, but I think that the one thing that made the biggest difference for me was how much fuel I ate. I think I ate about 1200 calories during the race. That is a ton! I hate to think about eating so much sugar, but I really think that it helped me feel amazing during the whole race and enabled me to get faster at the end. My advice to marathon runners: start slow & eat!! And…… have fun!!
——
Read Travis' recap here and my mentee, Nathan's recap here. See my official MCM finisher's page here and view all my official marathon photos here. See all of my photos from this Fall TNT season in my Flickr set.
——
Running a marathon is not necessary. It is probably not even all that smart. But it is an awesome challenge and a fun goal to work toward. I feel extremely fortunate to have the luxuries of time, money, and health that this running hobby requires. I know that not everyone has the same luxuries. However, if you do want to tackle a major accomplishment while getting fit and getting to know yourself better in the process, I recommend it! And, if you are going to train for a marathon, you MUST do it with Team in Training. And, if you can swing it, join the Brooklyn Team. I get so emotional thinking about how awesome this training season was and how much support TNT provides. I cannot recommend the organization enough.