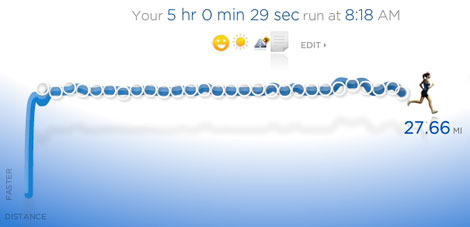 It is hard to tell from this Nike+ graph of my run, but I basically achieved negative splits during the marathon, meaning that I ran a little bit faster as the race went on, with my fastest miles being at the end. I have never really been able to accomplish negative splits as successfully before, even on shorter races.
I really think that the only reason I was able to stay strong during the Marine Corps Marathon was because I ate so much fuel before and during the race. Usually, I hate the thought of putting so much sugar and carbs in my body, but a race is not the time to think about losing weight or cutting calories. I am an eat-tons-of-race-day-carbs evangelist now! Eat those carbs, start slow, and think positive = my new race plan.
Something else I forgot to add to my epic marathon recap post… every single one of the eleven Brooklyn Team in Training runners achieved a Personal Record on Sunday! Some were running their first ever marathon and got a PR by default, but over half of us were returning marathoners and we all had our best race ever! That is huge. I am sure that some of it is due to the great weather we had that day, but I think most of our success on raceday can be attributed to the training and coaching we got through TNT.
Seriously, if you have always wanted to complete an endurance event, check out Team In Training. Seriously.