Picking my favorite Golden Globe fashions is something of an annual tradition of mine. (My picks from last year.) I didn't even watch the full ceremony this year, but I managed to catch up on the fashion online. It is amazing how fast they get the photos up after the red carpet!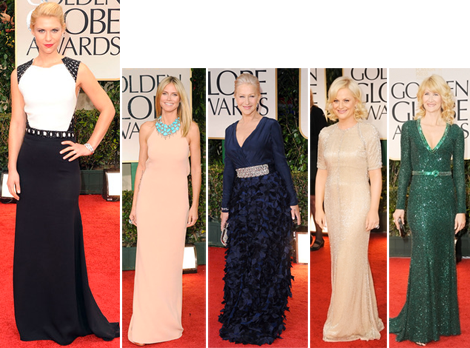 My very favorite was Claire Danes' J. Mendel gown. It was a little weird and futuristic, but I thought it was a perfect, sophisticated choice for her third award win. I also liked the dresses worn by Heidi Klum, Helen Mirren, Amy Pohler, and Laura Dern.
The fact that I am choosing older women as my faves must say something about me… hmmmm… I really appreciate it when the women look fantastic without going the overtly sexy route. I think it is more difficult to pull off an elegant and unique look than it is to just show cleavage. (Michelle Williams also did it adorably.)
I usually love courageous and weird dress picks, but I didn't love Angelina Jolie's asymmetrical Atelier Versace dress. I think I may just not like red.
Who wore your favorite Golden Globes look?