This will be my first year attending the Altitude Design Summit in Salt Lake City… and I leave tomorrow morning! I am a little nervous, but basically just trying to get all packed and ready.
The conference is focused on lifestyle and design blogs, so there has been a LOT of talk about what everyone is wearing. A LOT of talk. There are many cute blog posts on the topic, like this one and this one. One woman says she is bringing SIX pairs of shoes. For a three-day conference!! I am a little intimidated. So I need your help….
There is a party on Thursday night themed "Winter Wonderland" and everyone is supposed to wear white. I was planning to just wear a white top and call it good, but I found a casual silver dress on Sunday at a Theory sample sale and now I am torn. What look should I wear to the party?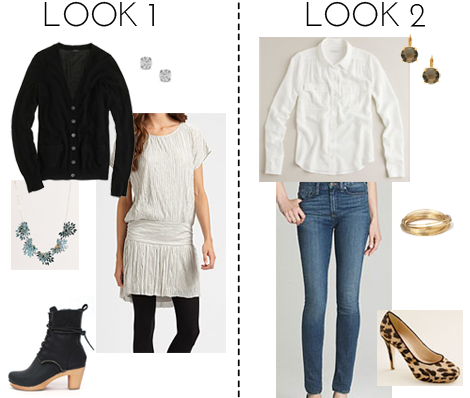 Either way I'll be pretty boring and unremarkable, but what do you think…
I reserve the right to alter either look… but I will post a report on what I end up wearing on Thursday…