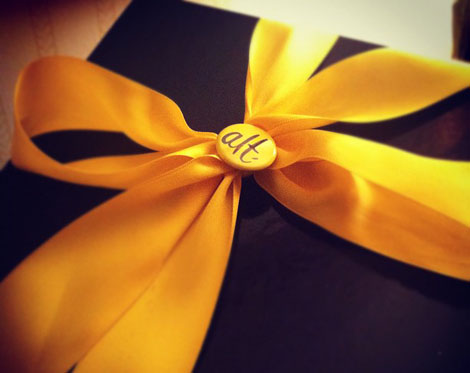 Hello. I am back from the wild world of Alt Summit! It was an inspiring, informative, exciting experience… but if I am being 100% honest, it was also exhausting, intimidating, and overwhelming. A lot to absorb in a short amount of time. I am so glad to have gone, but also quite glad to be back home.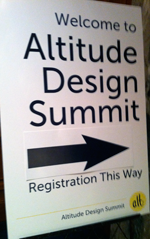 Alt Summit is about inspiration, design, and online business advice. I attended quite a few informative sessions, on topics like "The Business of Blogging," "Growing Your Audience," and "Blogging Ethics and Etiquette." Since I've attended similar conferences in the past, some of the content felt repetitive to me, but it was a thrill to hear the big names (like Heather from Dooce, Maggie from Mighty Girl, Ben from Pinterest, and Kal from [i]LoveLife) speak about their experiences of growing their sites and businesses.
I LOVED the keynote talk from Gretchen Rubin. Gretchen is the author of The Happiness Project, which I now feel even more compelled to read. Her talk reminded me that to be happy, you have to be honest with yourself about your true interests and passions, and it can be painful to let go of the person that you wish you were.
A few of my favorite quotes from Gretchen Rubin:
"You can only build a happy life on YOUR interests, YOUR nature, and YOUR values."
"Technology is a good servant, but a bad master."
"Preserve open space to think. (And don't feel guilty about it!)"
"The days are long, but the years are short."
To put it simply, she gave me permission to do the things that I need to do for my own happiness without feeling guilty, because being happier will make me a more productive and helpful person in the world.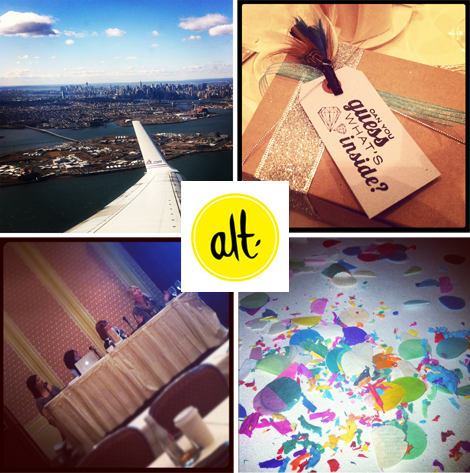 As a design conference, Alt offered lots of new ideas. The business cards that many of the attendees bring to exchange are like little works of art.
Some business card trends I observed: foil embossing, deep letterpress printing on very thick stock, DIY embellishments, like washi tape, and square formats.
My favorite business cards of the ones I collected:
Michelle Edgemont | You + Me Design | Making it lovely (one of my all-time fave blogs) | Ginny Branch | Deb Averett (an internet friend) | Fleurish Events | Elizabeth Giorgi | A Girl Who Makes (Laura is a high school friend who I ran into at Alt!) | The Salty Pineapple | Turquoise Ink | The Jealous Curator | Little Bird Soda Co. | Link with Love | I Still Love You (another of my fave blogs) | Armelle (with a QR code on a tiny pack of gum) | The Cuisinerd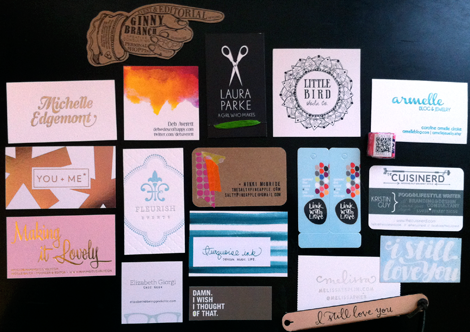 Since Alt is a conference for people (mostly women) interested in the online worlds of style, photography, design, and fashion, you can probably imagine how fashionable the attendees are. The outfits at Alt really were impressive.
Some fashion trends I observed: nerdy glasses, big necklaces, long, straight bangs, top knot buns, color!, stripes, red jeans, red tights, leopard print shoes, neon belts, pattern on pattern, floor-length skirts, sequins, and scarves. For men: bowties.
I did not feel quite up to par fashion-wise, but I tried. Here are a few of my outfits: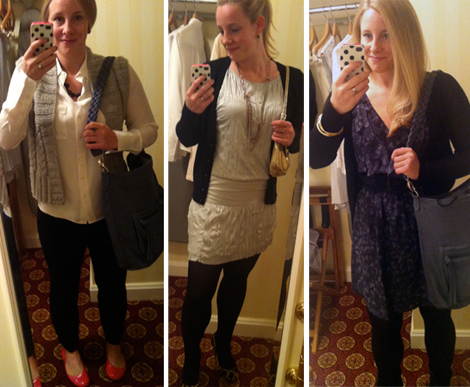 Yes, I went with the silver dress for the all-white-attire Winter Wonderland party. Thank you all for voting in my poll! (The big, blue bag was a gift from one of the Alt Summit sponsors, Epiphanie Bags. I actually love it!)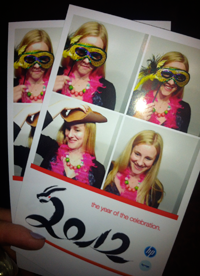 My favorite parts of the conference were the mini parties on Friday night. Different sponsors took over suites in the Grand America hotel and put on parties based around fun themes. There was delicious food and drink, party favors, and lots of confetti. I even forced myself to be brave and tried out one of the many photo booths solo.
Although the Alt Summit was a good experience, my favorite part of the entire trip was just getting to explore Salt Lake City. Seeing the mountains and the snow and staying in the lovely Grand America hotel was all very refreshing. I ordered room service, had a bubble bath, read good fiction late into the evening, and basically enjoyed spending some time alone.
I am not going to recap it all in full now, but I loved traveling to Park City to check out the Sundance Film Festival scene. I even got to see one of the films, West of Memphis, which was an excellent, heartbreaking documentary that I highly recommend. Completely unknowingly, I ran into a crazy-cool Banksy mural and I stumbled upon one of my favorite authors, Margaret Atwood, signing books and I picked up The Blind Assassin. On Saturday night, I struck out on my own, in the snow, to go see the Mormon Temple Square. It was impressive and spooky and wonderful. I had a grand adventure in Utah!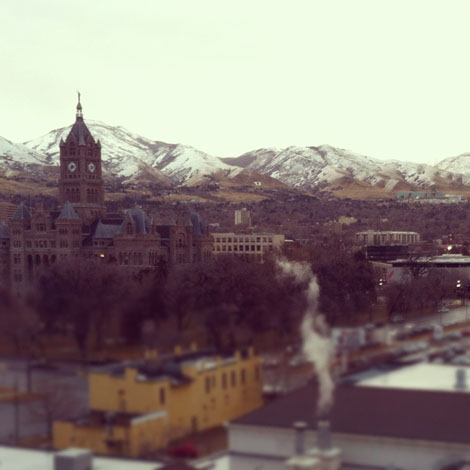 For more links from the conference, check out my "link love" round-up on the Swap-bot blog.
For more inspiration, view the Alt Summit 2012 Flickr Stream or search #altsummit on Twitter.