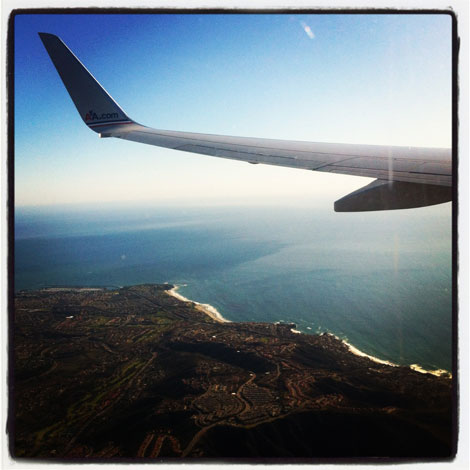 It was confusing to walk out of the airport last Friday into the perfect sunshine of California after being in snowy Utah and dreary, grey New York. It was a welcome confusion, however. California is nearly always sunny, and nearly always fun.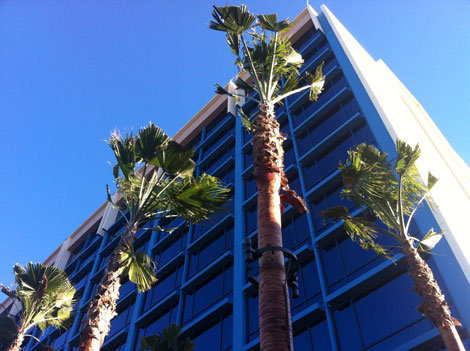 The reason for the trip was the Tinkerbell Half Marathon that Chelsea and I ran on Sunday, but we also made sure to spend lots of time visiting with family and friends. (Unfortunately, I managed to take more photos of palm trees than I did of Travis' sweet grandma, aunt, and uncles. boo.)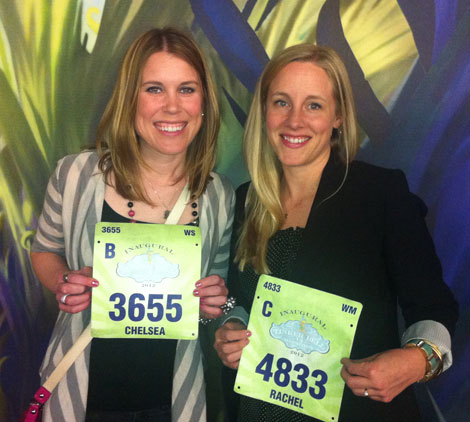 Travis, Chelsea, and I stayed for the first two nights of the trip at the actually-pretty-swanky DisneyLand Hotel so that we would be within walking distance of the race start and the expo, where we picked up our race numbers and t-shirts. The expo was fun, with food and clothing vendors, but it wasn't quite as extensive as I had anticipated. Of course, we picked up a few souvenirs! (Thanks, Brad & June!)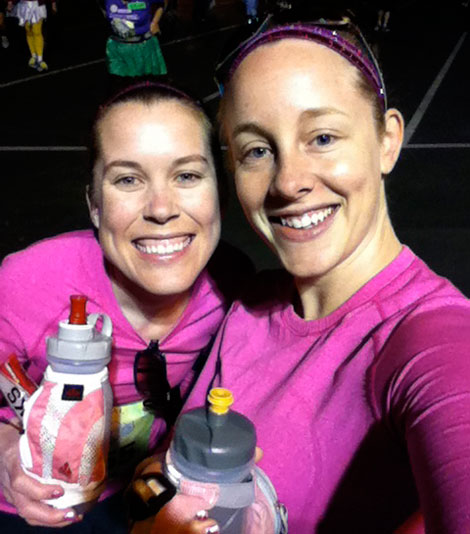 The morning of the race, Chelsea and I woke up at 3:30 am! Early, but it wasn't as bad as I was afraid it would be. I had coffee and a Luna granola bar before we headed over to the race start. The starting area was very well organized, with plenty of porta-potties and an easy bag check area. We were in our corral at the starting line before we knew it!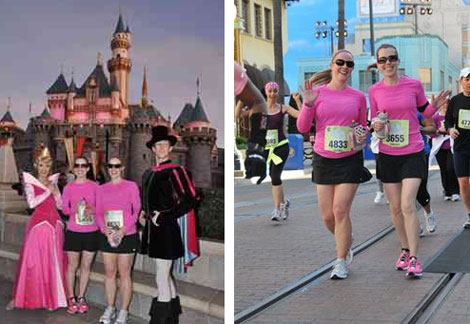 I was amazed that 12,000 people ran the Tinkerbell Half Marathon. That is a lot of people!! Runners were stretched out as far as we could see in front and behind us at the start. Most were wearing costumes, so Chelsea and I actually looked quite tame in our hot pink shirts, sparkly headbands, and running skirts.
After a few fireworks, the gun sounded at 5:45 am, and we were off!
The race started in the Disneyland Hotel parking lot, then we ran through Disneyland backlots and then right through the theme park, down Main Street USA, under the castle, and around through Adventureland. We stopped to take photos with a few characters along the way. We continued the race through the streets of Anaheim, through Downtown Disney, and then through the California Adventure park before ending back where we started. The Johnsons were out cheering us on in four separate spots — June even made a sign! — and they said we were smiling the whole time. It was a very fun, flat, easy course.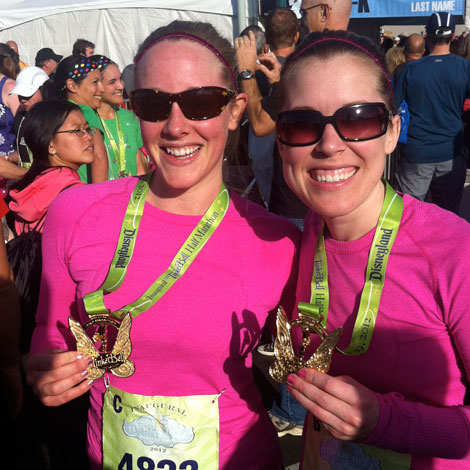 Now, it is considered slightly bad form to ask a runner their time when they complete a race since everyone's speed is so personal, but I am happy to report that Chelsea and I came in at 2 hours 38 minutes. I am actually impressed! Disney races are known for being very leisurely and overall much slower than other races, plus we stopped for many photos and even waited in line for a few, so our time was actually much faster than I was expecting. Chelsea is completely strong and had no problem finishing her longest run ever. I am so proud!!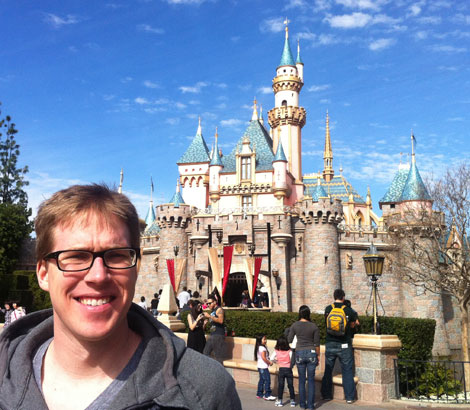 The day after our big race, we headed out early once again to spend a tourist day at Disneyland with Travis and our friend, Kristen. We rode all of the rides (my favorites are Space Mountain, Tower of Terror, and California Screamin') and ate our fair share of treats, like churros and cotton candy. A day walking around theme parks may not be the optimal activity after completing a half marathon, but I actually felt quite good. Disneyland is always a fun time.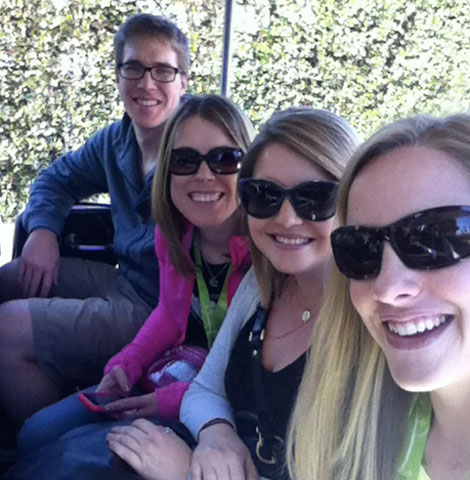 You can see more photos from our California trip in my Flickr set and see our official photos from the Tinkerbell Half Marathon here.