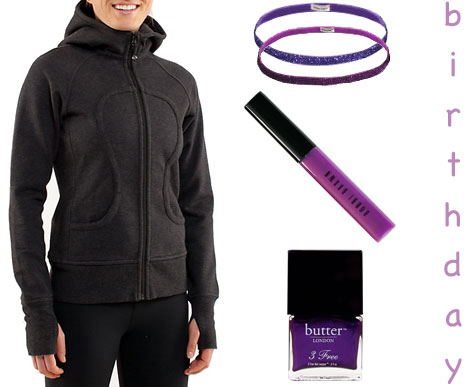 While in California I was surprised by an early birthday party from my sweet in-laws. I loved the gifts I received so much, that I wanted to tell you about them… just in case you are in the market for any of these goodies…
Lululemon is something of a family obsession. Travis' parents got me my very first Scuba hoodie, but it isn't the one pictured. The one they got me is black, but it also has a detachable faux fur trim on the hood. It is limited edition. Fancy.
My sister-in-law, Chelsea, gave me a collection of gifts inspired by my love for Team in Training purple, and which also happen to line up with the February's amethyst birthstone color:
My new favorite running accessory? Sparkly Soul glitter headbands. They are the best because they are a continuous band of stretchy, nonslip glitter. We wore pink during the Tinkerbell Half Marathon, and Chelsea surprised me with the two purple colors for my birthday.
Bobbi Brown is one of my favorite beauty brands and Chelsea got me the brand new, wildly bright, ultra violet lip gloss. Don't worry, it goes on with just a hint of color.
Nail color has been a new and somewhat unlikely hobby of mine. Nail biting has been a bad habit for my whole life, but I am trying to break it. Chelsea knows that I've recently been interested in the non-toxic (healthier?) nail polish brand, Butter London, and she got me the metallic purple Hrh color.
I recommend all of these items — they are my new favorites!
I sure got lucky when I married into the Johnson family… and for many more reasons than just lovely birthday gifts. xoxo