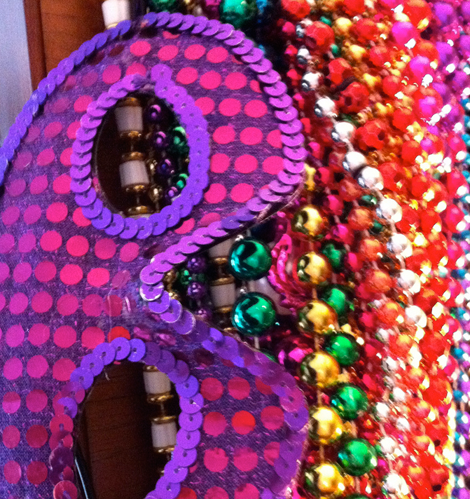 THE SHORT VERSION: Seth and I had a great time on our road trip. I LOVE New Orleans, especially the architecture and the accents. Mardi Gras was not as crazy as I expected, but I loved the parades and I took home lots of beads.
THE SLIGHTLY LONGER VERSION: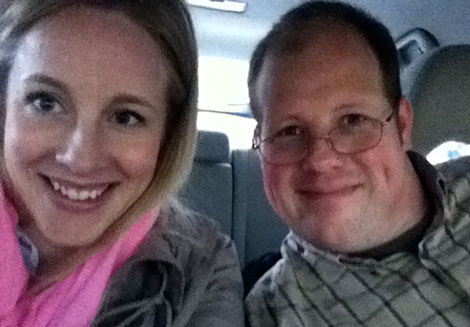 Last week, I headed south to visit my brother, Seth. He lives in Little Rock, Arkansas, where he works as a environmental engineer. We started our trip in his city where we checked out the the downtown area, hiked the big dam bridge, ate fried catfish and okra at Flying Fish, and bought some awesome cupcakes from Brown Sugar Bake Shop for the road.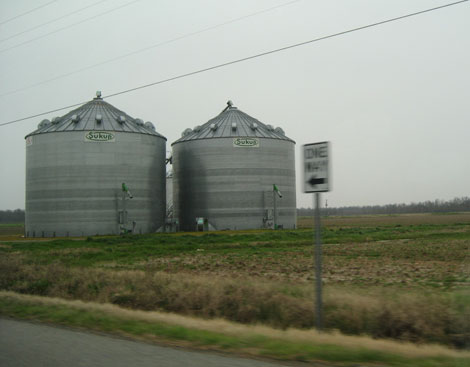 On Saturday, we hit the road en route to Jackson, Mississippi. The drive was powered by a Route 44 Cherry Limeade and a thrilling stop at the Louisiana Cotton Museum. In Jackson, we tried some Mississippi barbecue at The Pig Shak. The ribs were awesome!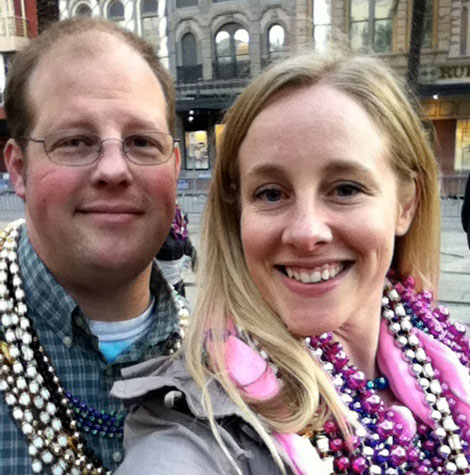 The road trip was fun, but the destination was what mattered on this journey. We rolled into New Orleans early on Sunday and went straight to the parade route. (There are parades going on all day in New Orleans for many days leading up to Fat Tuesday.) We watched some of the Krewe of Thoth parade on Canal Street and then walked along the parade route on Saint Charles. Despite what you may believe about Mardi Gras, the parades are actually very family friendly events. Parade participants throw beads and other goodies from the floats to the bystanders (revelers) – no flashing required (or even allowed outside of Bourbon Street).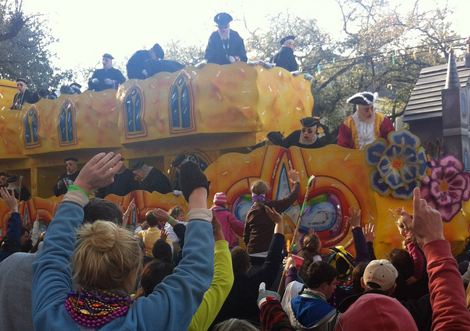 It was crowded walking along the parades, and mostly we walked past families with small kids. It was fun to see them catching beads from their little ladder seats. Seth and I caught a few beads and then headed over to Magazine Street on our way to Sucre, an incredible contemporary bakery, where we picked up one of their award-winning King Cakes. I felt that a King Cake was required rations for our stay in New Orleans. (We also managed to choke down the amazing Sucre S'more sundae seen here.) We grabbed some caribbean-style tacos from the Rum House for lunch and then headed back to the French Quarter to check in at Hotel Monteleone.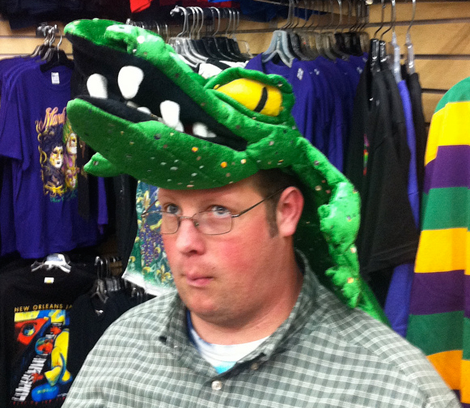 We shopped around the French Quarter for a bit (sadly, Seth did not purchase that alligator hat) and then headed to have a fancy, delicious dinner at Muriel's. I had a seafood stew and bread pudding. We took our first of many strolls down Bourbon Street to check out the scene and then wandered back to our hotel.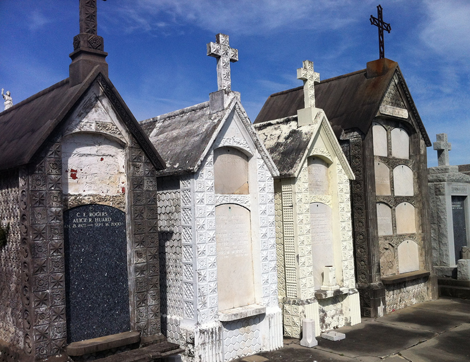 Monday was tourist day. We took a city and cemetery tour in the morning and a swamp tour in the afternoon. I felt a little dorky being driven around in a tour bus, but I am glad we did it. We got to see parts of the city we wouldn't have otherwise, and it was fascinating to learn about the continued recovery efforts after Hurricane Katrina and about the history of the different New Orleans neighborhoods. The cemeteries were haunting and beautiful with their above ground tombs. I could have spent many hours exploring them!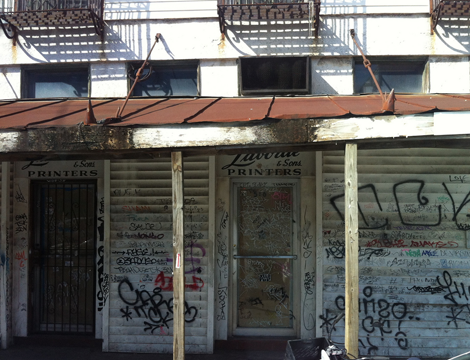 The swamp tour was somewhat uneventful — it is winter, so most of the animals are hibernating — but I did get to hold a live baby alligator!! That was fun. Our tour guide was funny (I loved his Creole accent) and it was incredible to see wreckage from Katrina that is still there six years later.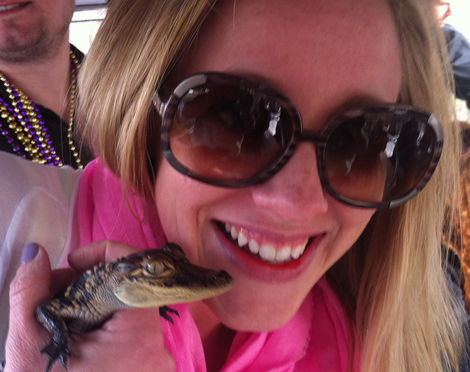 After returning from the swamp, we ate charbroiled oysters from the Acme Oyster House for dinner and then went out to Canal Street for what turned out to be the best parade viewing of the trip.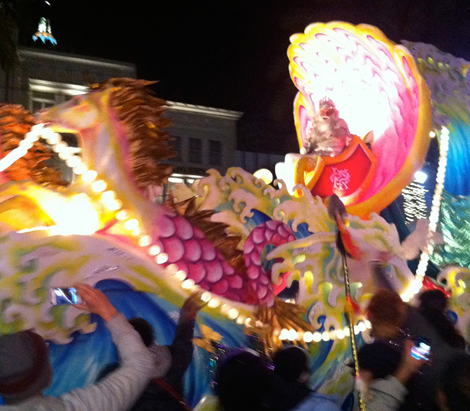 We saw the Krewe of Proteus and the Krewe of Orpheus night parades and they were spectacular. The nighttime floats are all lit up and there are "flambeaux" fire carriers walking between each float, dance troupe, and marching band.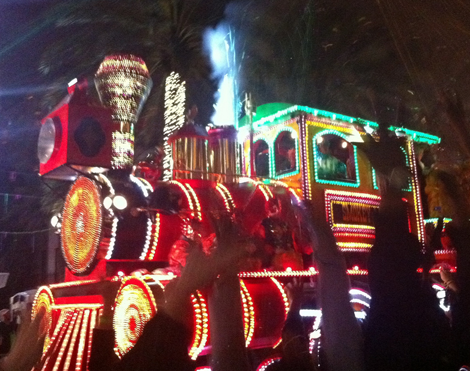 The Krewe of Orpheus is a relatively new parade group, started in 1994 by Harry Connick, Jr. There are always celebrities that ride on floats in the Orpheus parade, and Seth and I saw Cyndi Lauper and Mariska Hargitay. I think I may have even caught some red beads thrown by Harry Connick, Jr! (Hard to tell with so many beads flying.)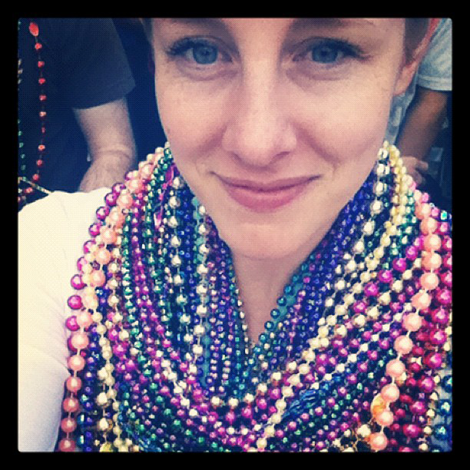 I had a really great time at the parades. They are such a unique and exciting form of art dedicated to celebrating life! It is amazing how much effort and how many people are involved in each one. Yes, there is a lot of trash generated, and yes, there are lots of beads littering the streets afterward, but I found it all to be very fun and even life-affirming.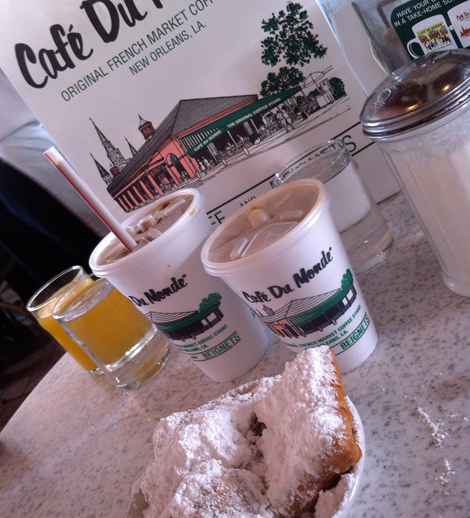 We met Mardi Gras Day with our first visit to Cafe Du Monde, a huge touristy cafe where you can get beignets (donuts) and cafe au lait. I loved it and we managed to get back to Cafe Du Monde two more times before we left town!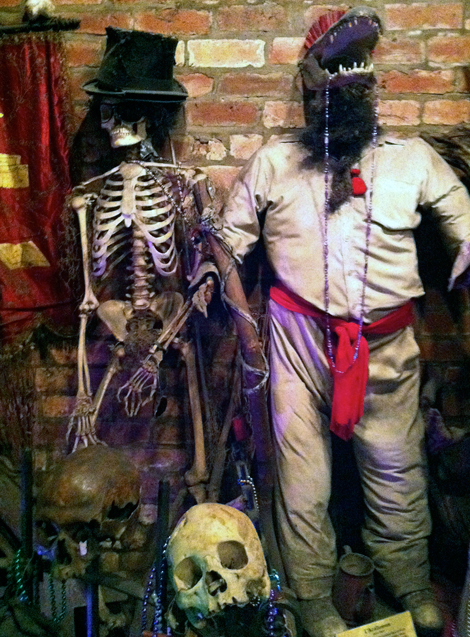 We spent Fat Tuesday checking out all sort of tourist attractions: Marie Laveau's House of Voodoo, Jackson Square, The New Orleans Historic Voodoo Museum (which as you can see above, was dusty and spooky), The Old Absinthe House, and more parades (including the Krew of Zulu and Krewe of Rex). We ate some alligator and had a drink at the famous Carousel Bar in the Hotel Monteleone.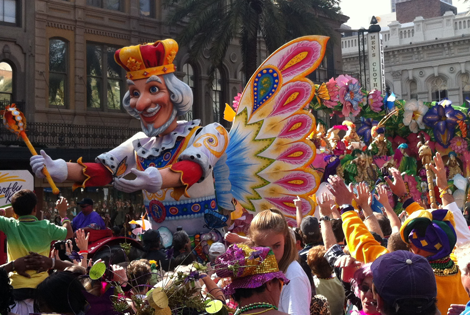 Nearly everyone in the French Quarter was dressed up on Tuesday. I felt a bit square in my casual outfit, but I bought a mask to make up for it. Everyone in the city seemed to be having a great time. Seth and I wandered around the French Quarter all evening and made a plan to be on Bourbon Street when the police shut it down at midnight.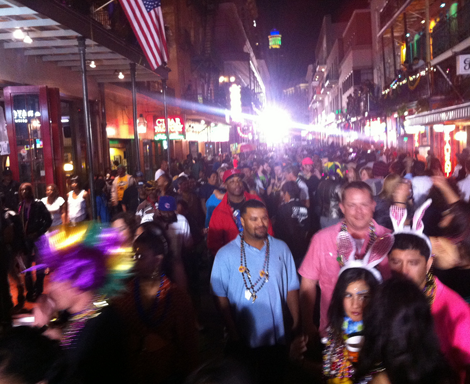 Thoughts on Bourbon Street: Yes, Bourbon Street was a crowded party zone lined with bars. Yes, there was plenty of drinking (you can carry an open container on the street any time in New Orleans), and plenty of frat boys, and yelling, and bead throwing. And no, I am not much of a partier. But I guess my time in NY has made me more comfortable with crowds, because it actually did not seem very wild and crazy. At least, not as crazy as I was expecting. There were police and private security and EMTs on duty everywhere. Nearly everyone was friendly and polite and overall I felt like it was a really fun scene. I only saw a handful of girls flashing for beads — kind of disappointing actually — and I never felt threatened or uncomfortable at all…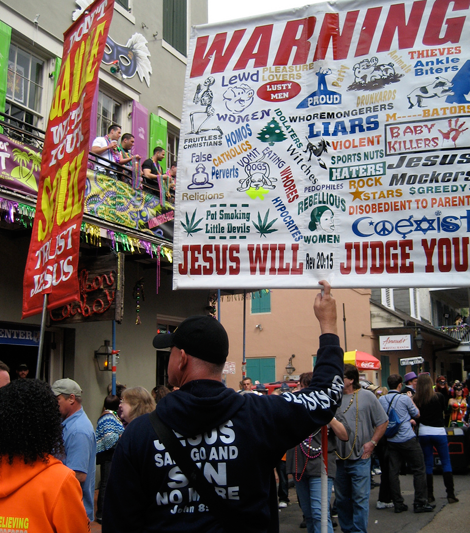 Except wait, I take that back. I did feel threatened and uncomfortable, but it had nothing to do with the partiers or the college kids or the flying beads. Throughout our entire trip in New Orleans we encountered religious groups camped out on street corners with signs and megaphones and pamphlets. I LOVE religion and am fascinated and open to it in nearly all forms, but some of the religious groups at Mardi Gras still have me fuming. The polite people who were handing out pamphlets or asking me if I wanted to "hear the good news about Jesus Christ" do not make me mad (I have a large collection of religious leaflets and enjoy receiving them) but the groups with hurtful signs proclaiming their judgement on who deserves to go to Hell and shouting at parade-watching children and families through megaphones really make my blood boil. SO much arrogance and disrespect! Argh. Anyway, that was the only part about Mardi Gras that I did not like: religious zealots trying their hardest to ruin everyone's fun time.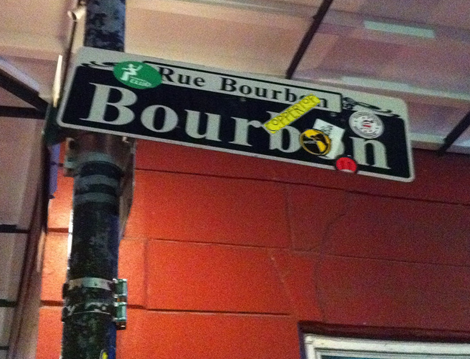 Seth and I stayed on Bourbon Street until the stroke of midnight when police cars and firetrucks came to send everyone home. Since Wednesday is the start of Lent, the city of New Orleans does a traditional and symbolic closing of all the Bourbon Street bars. It is the ONLY night of the year that the bars are shut down. Interesting.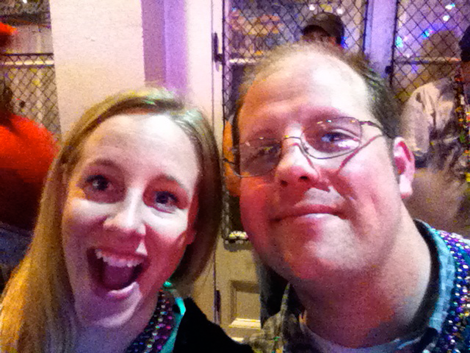 On Wednesday morning we didn't want to leave! So, we spent the morning doing a bit more shopping, grabbing one more breakfast at Cafe Du Monde, checking out Saint Louis cathedral, and buying a famous Muffaletta sandwich from the Central Grocery for the ride back to Little Rock. I would have loved to check out more museums and historic homes, but we didn't have the time. Overall, I think we fit a lot into our 3.5 days in NOLA.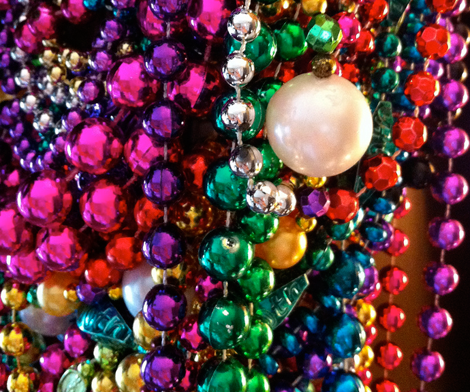 The trip was colorful, exciting, fun, educational… and exhausting. Seth and I got along great — right, Seth? — and I am so glad to have experienced Mardi Gras in New Orleans. I would love to do it again!
———-
Want more New Orleans?! You can view all the photos from our road trip and New Orleans on Flickr.