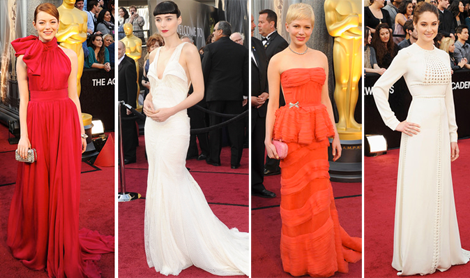 This is over a week late — which makes it totally lame — but I already did all of the exhausting research, so without further ado…
My top fashion picks from the 2012 Academy Awards!
Full confession: I did NOT watch the Awards last Sunday. (Instead Travis and I watched six episodes of White Collar.) Also, I did NOT see a single one of the movies nominated for Best Picture. Not one. The only movies I saw last year were Fast Five, Cowboys Vs. Aliens, The Girl with the Dragon Tattoo, and Mission Impossible. Surprisingly, none of those fine films were nominated for Best Picture.
Thankfully, we have E! News to catch up on all the movie gossip and fashion! Overall, I think I liked the gowns from the Golden Globes more, but the unique red and white dresses at the Oscars were quite striking. My favorites:
Many (including The New Yorker) picked Angelina Jolie as the best dressed, but i am bored of her. Or, maybe I'm just not a fan… what do you think?