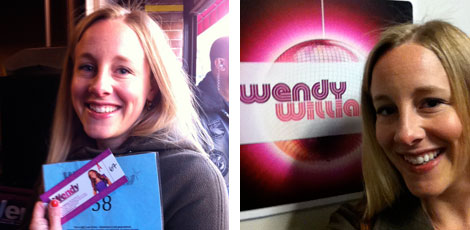 So… you know that I have an ongoing list of things I hope to do each year, right? Well, on my "31 while 31" list, I have: attend a taping of The Wendy Williams Show. Thanks to my friend, Brian, I can now check that item off my list!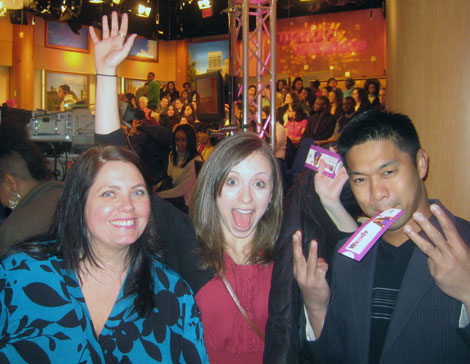 I'm not obsessed with tv. Really. But I had a lot of fun attending a few tapings of the Martha Stewart Show, and The Wendy Williams Show just looked like a party for the audience.
My assumptions were correct! Despite having to get up really early last Tuesday and go into the city to wait in line in the cold — Brian got tickets online, but you still have to arrive early to get in the audience line — it was a wild and totally fun experience. Alison, Casey, Brian and I had a great time. (Sadly, Travis was at work and couldn't come with us… but I have a feeling that Wendy Williams may not be his scene.)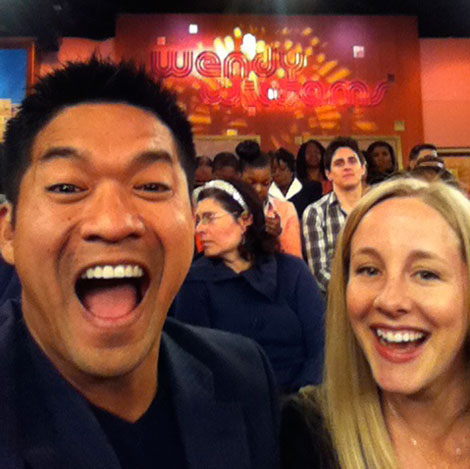 We spent a long while in the green room area before entering the set. I was interviewed by a producer who wanted me to ask Wendy a question on air. (In every episode of the show Wendy answers an advice question from the audience.) I was willing to do it, but nervous. I am terribly awkward on camera and glad that I didn't ultimately get picked. Whew!
Once we entered the set, the fun started! The warm-up guy for the show was excellent. Very funny and energetic and cute. All of the ladies loved him. There was also a dj playing music to pump us up. They wanted the audience to be really excited and loud when Wendy entered the set. It was definitely a little more rowdy than the Martha Stewart Show! At one point in between segments, there was an audience member dance contest. It was crazy and hilarious and embarrassing. Don't worry, I did not participate.
We didn't receive any free items like I did at the Martha Stewart Show, but that is totally ok with me. We spent the two hours laughing, which I think is even better. The show guests were an actor from CSI:NY, a gospel group, Run from Run:DMC, and Beverly Johnson, an ex-supermodel with a new reality show. I enjoyed it all and am even tempted to watch Beverly Johnson's show… maybe.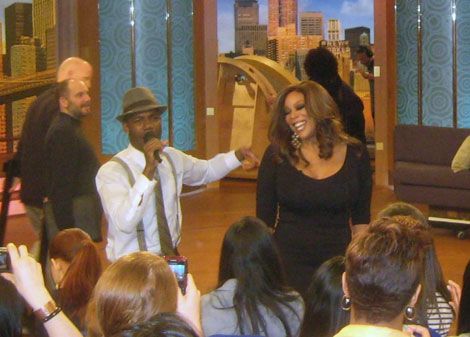 Wendy Williams is the real deal. On screen she looks like a giant, but she is much more normally-sized in person. (Although, the three giant body guards that she had around her at all times helped to put her height in perspective.) And she is beautiful. She was very sweet to the audience, and funny, and a total pro. She only had to re-take a few lines when she was taping the promo segments. I was impressed. You could easily dismiss her show as unserious fluff, but I actually think she is very talented. She is honest and matter-of-fact with her guests, not afraid to ask tough questions. I actually think she has a long, successful career in front of her.
Anyway, I recommend attending a taping of The Wendy Williams Show if you can. You can request tickets here.
Which television show taping (in NY) should I attend next??