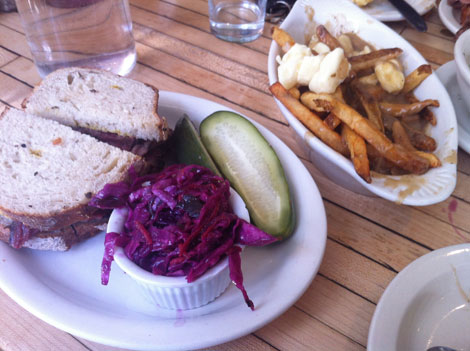 Last week, I took a lunch trip with my friend, Brian, to Mile End Delicatessen. The deli has received a lot of buzz and hype since it opened at the end of 2010. It was created by a Montreal couple, Noah Bernamoff and Rae Cohen, who wanted to re-create the Jewish deli comfort food that they missed from home.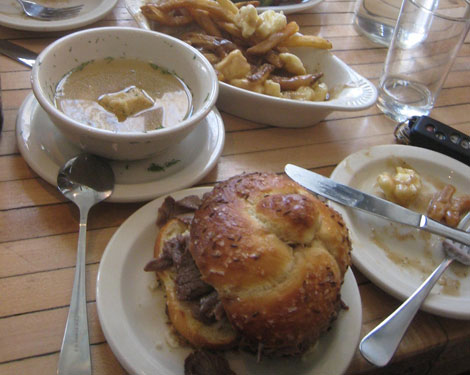 Mile End is a tiny, tiny shop right off Atlantic Ave in Boerum Hill. Brian and I went for a mid-week lunch and luckily got the last two seats at a shared table. (Don't worry, Travis was not jealous. Mile End does not have many vegetarian options.) We ordered the signature dishes: the Matzo Ball Soup and Poutine to share, and I got the Smoked Meat Sandwich on Rye and Brian ordered the Beef on Weck.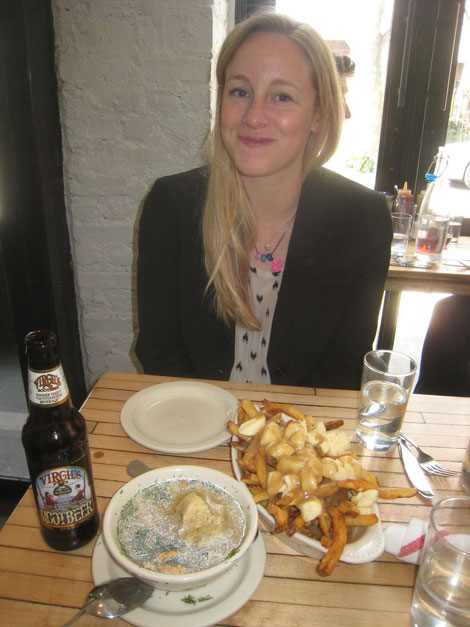 It was all so, so, so, so good! I wish I were more of a food critic and could discuss the different textures and flavor profiles, but sadly I am just an inarticulate lay preson who likes good food. I can tell you that the Smoked Meat Sandwich blew Katz's Deli away, and I am a huge pastrami fan. The poutine was salty and delicious and the matzo ball soup was heavy on dill, which was perfect. I was a very happy customer… as you can tell by my stuffed-mouth smile above.
Dinner at Mile End looks interesting (with chopped liver, lamb's tongue, and veal shortbreads) but I think it will remain a favorite lunch spot for me. I can't wait to take out-of-town guests!
Now that I checked Mile End off of my restaurant wish list, I am eager to visit the rest of my list: Balthazar, Minetta Tavern, Little Neck, Pok Pok Wing, Momofuku Ko, Pies N Thighs, Fatty Cue, Brooklyn Fare… etc, etc…