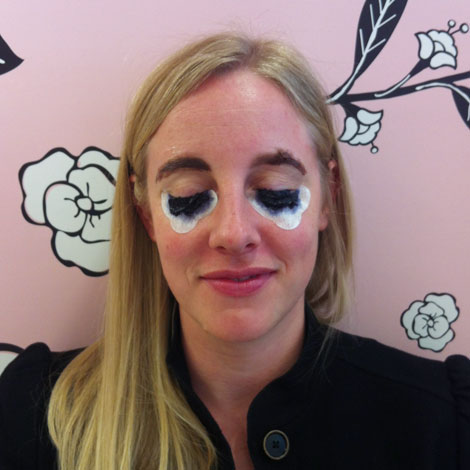 Freaky photo, right? Last Friday, on a whim, I decided to go get my eyebrows and lashes tinted at the Benefit boutique in Soho. My friend, Casey, had told me they offered the procedure and I was in the neighborhood on Friday and in the mood for an experiment.
For a little more than I was expecting — $49 plus tip — I got my lashes and brows tinted and my brows shaped and waxed. (Above is what it looks like during the tinting.)
I am low maintenance (Travis laughs when I say that) and rarely wear makeup. I am blonde (obviously) and have light brows and lashes, which can sort of blend in with my skin. I wear mascara when I do wear makeup, but I am way too lazy to fill in my brows or even tweeze very much. So, a semi-permanent make-up solution sounded like a good idea.
I know that for many women brow waxing is a routine thing, but this was my first time. I was pleased that it didn't really hurt much at all.
The full procedure — tinting and waxing — is not something that I plan to spend money on every month, but I am actually really pleased with the results! Darker facial features are just more photogenic.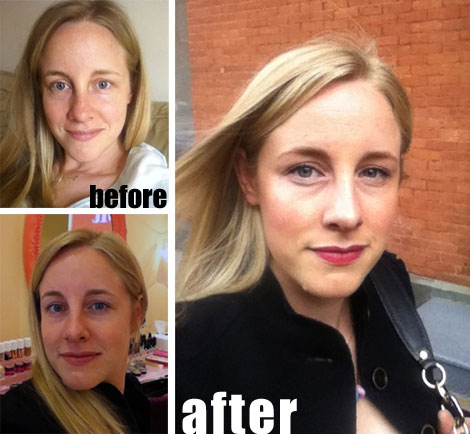 The girls at Benefit also did my makeup, which is shown in the "After" photo above. (And of course, I got talked into a few purchases. I love the new eye shadow I got.) The second photo is after the brow and lash tinting, but before the makeup. I have mascara on in the final photo, but my lashes are dark enough now to go without.
The brow and lash tint is supposed to last for four to eight weeks, depending on the person. I think that I will save it for special occasions (mainly because I don't want to spend the money) but I definitely recommend the Benefit boutique in general. They also do facial and body waxing, plus other procedures, like tanning, and they totally accept walk-ins.
Do you "groom" your brows?