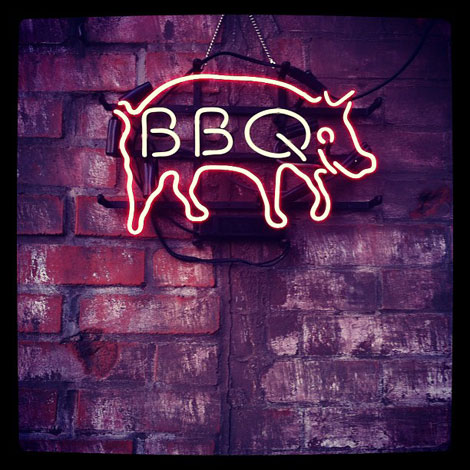 Warning: bold statement ahead.
Fort Reno BBQ is my favorite restaurant in Brooklyn.
Fort Reno is a very new, very tiny barbecue restaurant in Park Slope on Union Street. (Supposedly, it is the Slope's ONLY barbecue restaurant… for now. Dinosaur BBQ is coming soon!) It is completely and totally "Brooklyn hipster," with mustachioed bartenders, old-timey cocktails, reclaimed wood tables, and local, grass fed meat. I've been three times.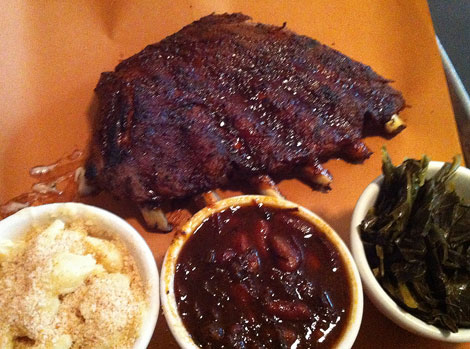 Usually, I try to avoid Brooklyn hipster hangouts — I'm just not cool enough — but ever since becoming a full-fledged marathon runner, I have been craving meat more than anything else. More than sweets even! I know. Crazy. (It is sort of a problem since my husband has decided to be a vegetarian marathon runner. Thankfully, I have meat eating friends.)
Once upon a time, I hated ribs (too much trouble) but lately they are all I think about. The rotating menu at Fort Reno contains anything from brisket to pulled pork and chicken to sliced beef to Saint-Louis-style ribs. Thankfully, each time I've been, ribs have been on the menu. They also offer southern-style sides, like mac & cheese, coleslaw, biscuits, collard greens, baked beans, red beet salad, and corn bread. You order your food at a counter and then take it to your table on a tray with butcher paper. Drinks (including a selection of $10 specialty house cocktails) are ordered at a separate bar.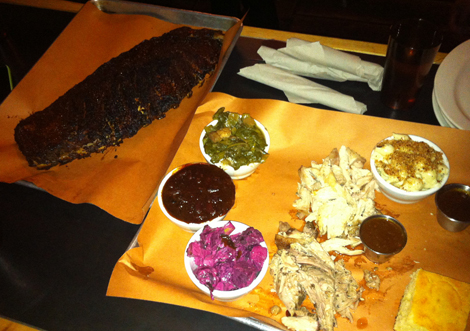 The house-made barbecue sauce and the sides are all great, but I don't even care. All I care about is ribs!!! I may have a problem. You can order them in a 1/4, 1/2, or full order. (Far above is a photo of the half order, above is a full order.) They are so meaty and tender and slide right off the bone, and I love their dry rub seasoning. So good!
I have a bad/good feeling that Fort Reno will be unbearably crowded once summer truly begins. I had better fit in plenty of dinners there before that happens! Thankfully, I already have my fourth trip planned for Sunday afternoon…
Read more about Fort Reno on Here's Park Slope and Serious Eats.
What is your favorite Park Slope restaurant?