I must admit, I feel quite hip. On a surprise three-stop date on Saturday (planned and executed by me!) I took Travis to the very new, much hyped PokPok Ny. A tiny Thai restaurant which just opened in the Brooklyn Heights/Cobble Hill/Red Hook area of Brooklyn on April 18th.
PokPok Ny is the newest addition to chef and restauranteur, Andy Ricker's, Portland (as in Oregon) Thai food empire. His restaurants and special fish sauce chicken wings (seen above) have been winning awards since he opened the first PokPok in 2005.
My secret sources in Portland suggested that PokPok PDX is a bit over-hyped and more of a scene than a comfortable restaurant, but I was still determined to try those fish sauce wings just the same…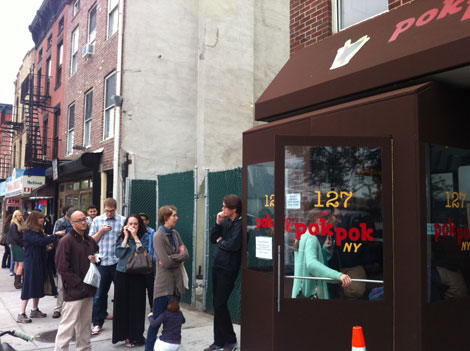 Travis and I arrived at PokPok Ny at 5:30 pm and were already the fifth party in line outside the door. If you plan to go, I suggest doing the same. They don't take reservations. The restaurant opens at 6 pm, Wednesday-Sunday, and by the time the doors opened there were at least 30 people in line. Travis and I sat inside, where there are probably only 24 seats, but thankfully the tented outdoor space was open for seating as well. I think the entire restaurant was full by 6:05.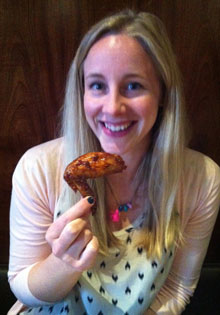 We ordered the specialties: Ike's Vietnamese Fish Sauce Wings and the Papaya PokPok, a fresh salad of papaya, chili peppers, peanuts, and tomatos. Plus, Travis ordered vegetarian Khao Soi, a curry noodle soup with tofu. We also ordered both the sticky rice and the jasmine rice to mix with everything.
It was all so fresh! The Papaya PokPok was excellent, especially when you had a bite with plenty of peanuts, but it was spicy! Maybe I'm just not accustomed to so much spice, but my mouth was burning! I drank a lot of their initially strange, but ultimately refreshing Pandan table water to cool it down. I suggest pairing the Papaya PokPok with lots of sticky rice (which comes to the table inside a plastic bag in a grass basket) to cut the spiciness.
The wings were awesome!! NY Magazine just named them the city's Best Wings, but I was not sure if I should believe the hype. I am not much of a "sports bar wings" person, but these sauce-coated, salty, sweet, spicy, crispy, mini chicken parts were delicious. At first I was skeptical of their top tier status, but the more I ate, the better they tasted. I ate the entire plate and attempted to totally clean the bones of any sauce. I think my dinner consisted almost entirely of saucy chicken skin, but I didn't leave feeling greasy-food-gross or overly full.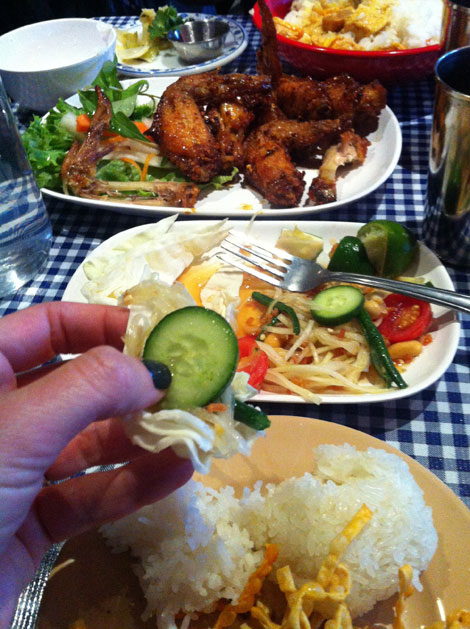 In addition to simply being at a new, talked about Brooklyn restaurant, I felt even more NYC cool because I am nearly positive that Travis and I were sitting next to one of my favorite cool girl bloggers and Captain America party friend, Edith Zimmerman. Darn. It turns out it wasn't her, but whomever it was, they truly were dining with a food critic (I'm guessing from NY Magazine). Andy Ricker (the actual restaurant owner and chef!!) brought at least a dozen dishes, half a dozen drinks, and three desserts over to their table over the course of the meal. I was jealous of all the food, but just sort of silly-happy to be part of the scene. I am most certainly a dork.
Anyway, if you like Thai food and a unique, casual dining experience, definitely try out PokPok Ny. It is not ousting Fort Reno as my favorite Brooklyn restaurant, but I must go back because I didn't get to try their "drinking vinegars" or the highly recommended Hoi Thawt.
What NYC restaurant should I try next?