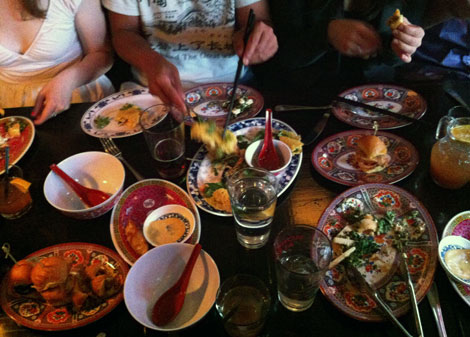 I do not watch Top Chef, but if you do, you probably know that Dale Talde was a contestant on Season 4 and Season 8. And, if you are a fan, you probably also know that Dale (along with John Bush and David Massoni of Thistle Hill Tavern) opened his namesake restaurant, Talde, in Park Slope in January. The new Asian-American (i.e. asian fusion or pan-asian) restaurant has already received rave reviews, including "best dumplings" from New York magazine. It seems that Brooklyn truly is the place to be for hip, new, delicious restaurants!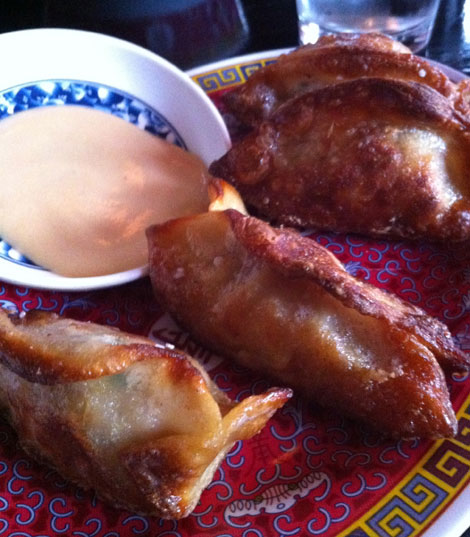 I was interested in Talde, but had heard that the wait to get in was ridiculous. Luckily, my friend Becca organized a group outing for last Thursday. (You can only get a reservation for a party of six or more.)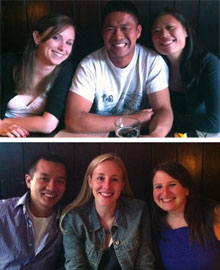 We ordered just about everything on the family-style menu, including two orders of the pretzel pork and chive dumplings (seen above) and the crispy oyster and bacon pad thai (seen below), plus Hawaiian bread buns, chilled soba noodles, Korean fried chicken, grilled kale salad, Saigon fried crepes, fried rice, black pepper butter toast, and roasted corn. Between the seven of us (Travis was there, but not in the photos) we had no trouble finishing everything. There were plenty of vegetarian options for Travis and lots of seafood and meat options for the rest of us.
I don't know what I can say that more eloquent food critics have not already said, but everything was delicious and interesting. The pad thai with its thick chunks of bacon and the dumplings with their salty pretzel exteriors were my favorite. The Hawaiian bread buns were fun, tasty, little sandwiches, and I could have easily eaten the full bowl of soba noodles. I loved passing the dishes around the table and trying a little of everything. It was the type of meal that makes me grin uncontrollably and continuously blurt out, "This is so good!"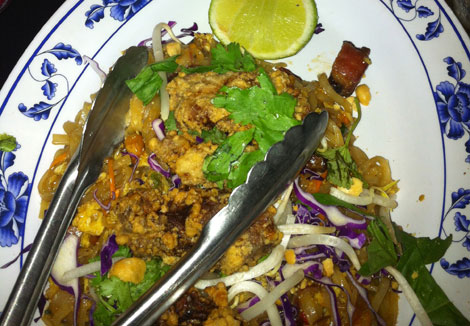 Dale Talde is proud of his new restaurant and he is in the kitchen most nights. We saw him walking the floor early in the evening thanking a few customers. After our meal I thought a photo of the kitchen (and maybe Dale) would be an excellent edition to this blog post, so I ventured over to the kitchen with my friends Casey and Sarah. Somehow Dale came out and started to chat with us! He was kind, and funny, and very excited about Talde and his future restaurant plans. I learned that he will be opening Pork Slope, a roadhouse-style bar and barbecue place, on 5th Ave where Aunt Suzie's used to be. I can't wait since that is very near our apartment!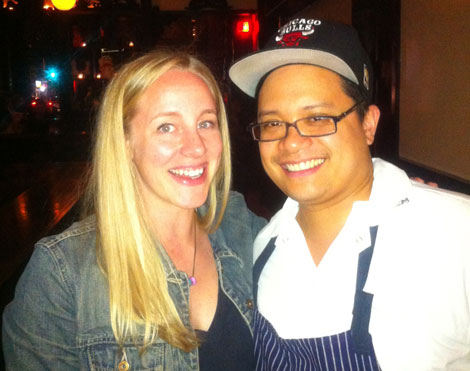 Mr. Talde was nice enough to pose for a few photos. It was awesome to meet such an enthusiastic and talented chef and restauranteur. I wish I could eat at Talde once a week, but its popularity will most certainly prevent that…
You can follow Dale Talde and Talde on Twitter, and check out the restaurant menu here.
In addition to Talde, I've visited PokPok Ny, Fort Reno, and Mile End Delicatessen. What should be the next stop on my trendy Brooklyn restaurant odyssey?