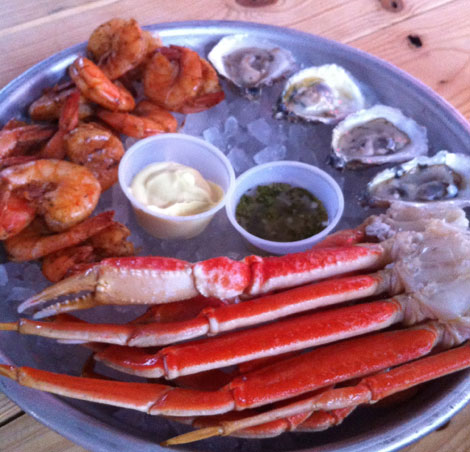 Seafood! I love it, but it can be intimidating… or at least too fancy and expensive. So, I was really excited to go try out Brooklyn Crab, a brand new, totally casual, giant, three-story crab shack in Red Hook. Reviewing the menu online had me craving crabs and oysters and lobster… yum!
Brooklyn Crab officially opened about two months ago, but I was a bit behind in my restaurant watching. I hadn't had a chance to read many reviews before Travis and I went to check it out with four friends the Friday before last.
It is a good thing I hadn't read many, because the reviews have been pretty harsh. The up side is that most of the complaints center around the long waits for tables and the disorganization of the staff, not necessarily the food.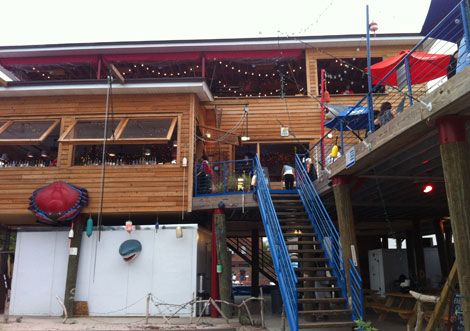 After taking the Brooklyn Crab shuttle from Carroll Gardens, we did indeed have to wait for over an hour for our table, but it was actually for the best. We grabbed drinks and ordered the Cool Platter seen above (1/2 lb. Snow Crab Legs, 1/2 lb. Spicy Peel & Eat Gulf Shrimp, 4 Oysters & Creamy Mustard Sauce) which you can get at the bar.
Then, after chowing down on our fresh, delicious, chilled appetizer, we checked out the game yard. Brooklyn Crab has a full 18-hole mini golf course and cornhole (bean bag toss) games. The games were free to play when we were there, but apparently now it costs $5 for a round of mini-golf.
Travis got two putt putt holes-in-one and our friend Nate dominated the bean bag toss, so basically it was a very fun ninety minute wait.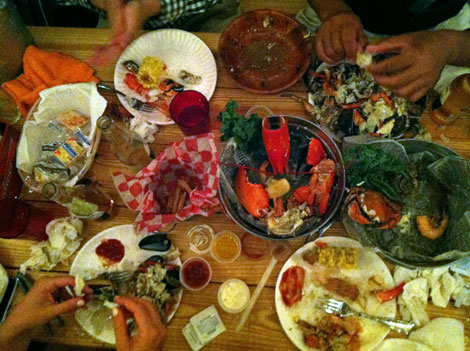 I was pleased when we were seated in the upper area of the restaurant at one of the big picnic tables. The table was perfect for our big group and the views of the water and city were incredible. We could see both the Statue of Liberty and the Manhattan skyline. I wish I had taken better photos…
The meat-eating side of our table ordered two Steam Pots: the Northeast (1 1/2 Lb. Lobster, 1 1/2 Lb. Jonah Crab, Mussels, Gulf Shrimp, Red Potatoes & Corn on the Cob) and the Southern (Blue Crabs, Shrimp, Andouille Sausage, Red Potatoes & Corn on the Cob in Old Bay). Our friend Casey (who took the photo above) is moving to North Carolina from NYC this summer, so the two Pots felt quite appropriate.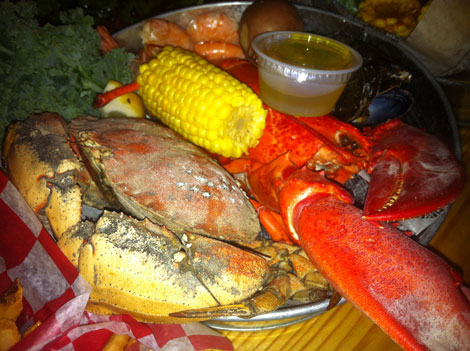 I was absolutely in LOVE with all of the seafood. Of course, it took a bit of work to eat all of the crabs and lobster, but cracking the shells is half the fun! The spicy, peel-and-eat shrimp and the sausage, with their Old Bay seasoning, were also delicious. The only item that I wasn't thrilled with was the Jonah Crab… it had a strange flavor to me. Overall, I was extremely happy. Nothing was overcooked and I was satisfied, but not stuffed when we finally managed to finish up the very last bits of each Steam Pot.
Travis and our friend Amanda ordered the Vegetarian Steam Pot and Macaroni & Cheese. They were quite happy with their selection. You can tell your veggie friends that they don't need to skip Brooklyn Crab.
We finished the meal with Brownie Sundaes and Steve's Authentic Key Lime Tart – both received raves from everyone at the table.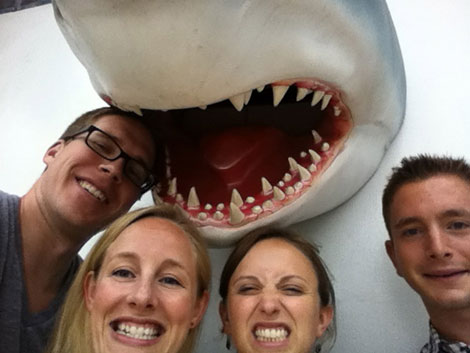 Don't be scared of the Yelp reviews of Brooklyn Crab. I had a great experience. As long as you aren't in a hurry and are willing to spend $40+/person for a very casual, but delicious and fresh seafood meal, there is no reason not to go check it out. It is the perfect place for a fun & easy summer meal. Get there when they open at 2 pm on Saturday or Sunday and make a whole afternoon of it!
Check out Brooklyn Crab online or follow them on Twitter.
Have you been to Brooklyn Crab? What did you think? Which Brooklyn restaurant should I check out next?