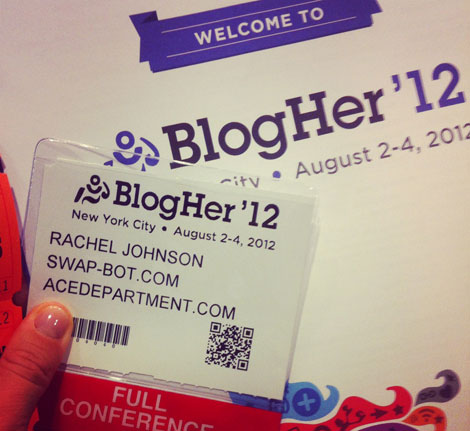 I've been to quite a few female-focused blogging conferences in the last few years — BlogHer in 2010, The Creative Connection/BlogHer Handmade in 2011, and AltSummit earlier this year — and I think I hit my saturation point with BlogHer12 last weekend.
I am proud to consider myself a feminist and I am happy that women are being empowered and celebrated in the world of tech… but apparently I've been immersed in the online world of women for too long.
BlogHer felt like it was all Stephanie Meyer novels, menopause advice, gluten-free cookies, lactation rooms, vibrators, dietary supplements, and maxi pads. All of which is valid and important, but none of which interests me at this point in my life. Well, except maybe the vibrators…
The single thing that I will remember most about BogHer? All of the men's restrooms in the hotel were changed to women's restrooms. And the urinals were HIDDEN BEHIND CURTAINS! Curtains that were brought in just for that purpose. Despite what the conference organizers may think, women CAN handle the sight of urinals. What I personally can't handle is being completely enclosed in an all-women environment where every trace of men is erased from sight. It just isn't for me.
Sadly, I was also disappointed with the two sessions I attended: "Ten Things You Can Do Now to Maximize Your Social Media Expertise" and "Streamline Your Technical Toolkit: How to Do More with Less." The two pieces of advice I took from these two sessions? Proofread your posts and use Google Docs. Thanks.
I did manage to gather a few interesting links to share:
My favorite part of the conference: Martha Stewart was one of the keynote speakers. She was as arrogant confident as ever, but she was also really funny. She is definitely a hard worker and I think she might be a genius. Anyhoo, she has a new show, Martha Stewart's Cooking School, starting in October on PBS. It looks very lovely.
Maybe a helpful tool: RescueTime. Track how you spend your time online and be more productive.
Girl Around Town – A women's lifestyle site (similar to Daily Candy) covering NYC, Houston, and LA.
And, if you don't mind some strong language, my friend Jen's blog is hilarious: People I Want to Punch in the Throat. She was nominated as one of the BlogHer Voices of the Year.
I had a great time at BlogHer the first time I went, so maybe I am just jaded now and being too harsh. What do you think? Were you at BlogHer this year? Did you love it?