Somewhere in a box of memories in my parents' basement in Kansas is a list I made when I was 19. The list was my extreme athletics plan and it went something like this: Marathons > Triathlon > IronMan > EcoChallenge* …and the list may have ended with Olympics. (2000 was a Summer Olympics year, after all.)
Well, I can cross Marathons off the list. And, as of last Saturday, a triathlon and eventually an IronMan have been moved to the top of my endurance priority list!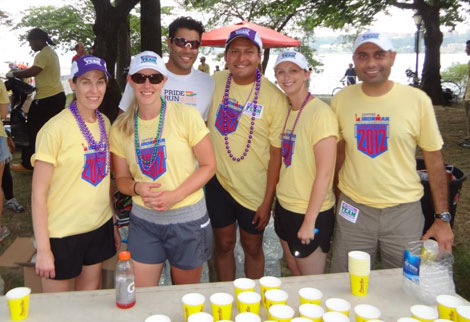 Saturday was the Inaugural IronMan US Championships in NYC. An IronMan, by the way, is a 2.4 mile swim + 112 mile bike ride + 26.2 mile run. I did NOT participate, but I DID volunteer.
Team In Training and the LLS (my charity of choice) manned an aid station at Miles 22 & 25 of the IronMan marathon course. We arrived early, set up aid tables, chalked the route with encouraging words, then waited to hand out water, food, sponges, and Coca-Cola to the athletes.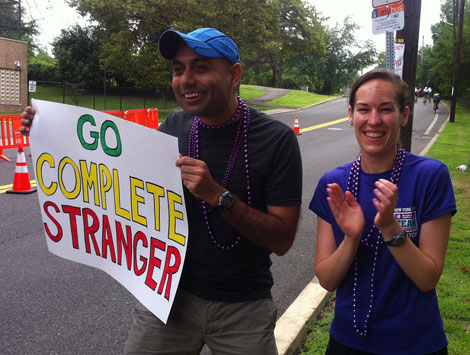 Volunteering was thrilling and I would love to do it again, but even more exciting was tracking and cheering for our friends on the course. TNT had an "IronTeam" and three of my Brooklyn teammates (Hi Joel, Yvonne, and Ronald!) were crazy ambitious enough to sign up and spend the last year of their lives training for this huge event.
A group of us got up early to go see the beginning of the bike before our volunteering shift. (The "Go Complete Stranger" sign was a huge hit, btw.) Then, in the evening, we camped out near mile 22 of the marathon and waited for our TNT peeps to run by…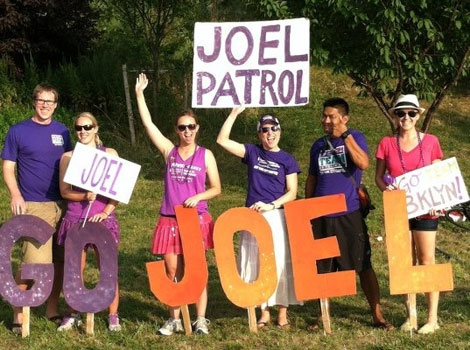 We were there to cheer for all of the athletes, but especially the TNT athletes, and MOST especially Brooklyn TNT Coach Joel. There is legend surrounding the greatness of Joel, but all you need to know is that last fall he traveled to Washington DC on HIS BIRTHDAY to coach me (and a tiny & terrific Brooklyn TNT contingent) in the Marine Corps Marathon. That race day was one of the best days of my life and I needed to repay the kindness. (Also, Joel once gave me an epic birthday gift.)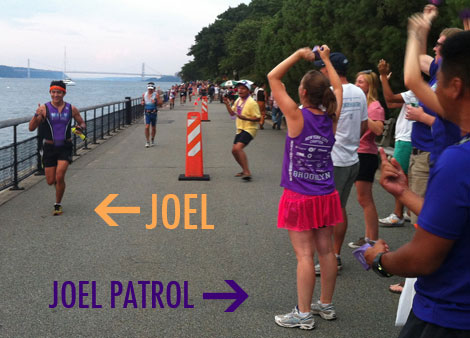 We saw a lot of exhausted athletes Saturday evening, but Joel was not one of them. He was strong and happy and fast at the end of a MARATHON at the end of an IRONMAN! So strong and happy in fact, that I think I am completely underestimating the difficulty of the event when I say "I want to be an IronMan." But… stating a goal is the first step in achieving it, right?
I guess I better go buy a bike…
*Travis and Adam agreed to be on my EcoChallenge team and don't think I am forgetting that even if the adventure race reality show has been off the air for a decade. We ARE doing it!