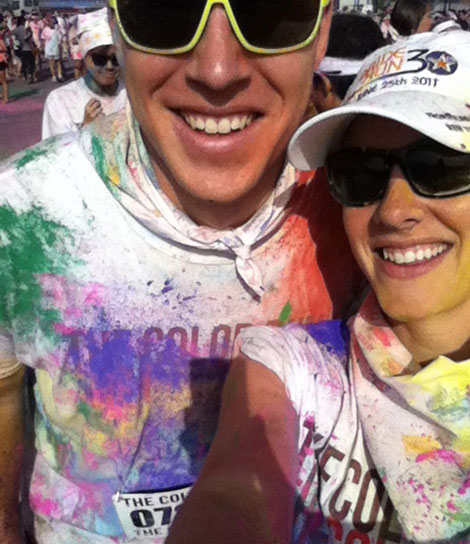 With a group of running friends, Travis and I signed up for The Color Run this summer. The multi-city race is billed as "the happiest 5k on the planet" and the NYC event sold out within two days, despite the $50 registration fee. The photos and videos online made it look like a lot of fun, so we were excited to try it out.
A 5k is sort of low mileage at this point in our marathon training, so it was a little annoying to wake up early and drive deep into Brooklyn on a Sunday morning for three un-timed miles, but we were still pumped. Many members of our Brooklyn Team were there decked out in the required white t-shirts. We had fun dancing and throwing color on each other before and after the jog through the course on an abandoned air strip.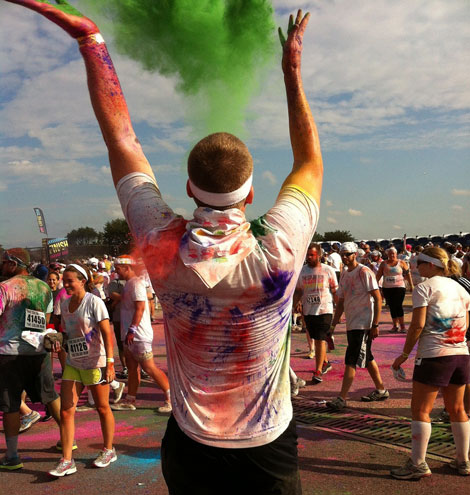 There were four "color stations" on the course where volunteers sprayed you with colored powder. There probably should have been more color stations, since otherwise the course was completely boring… but there was music and lots of young people acting crazy, so we stayed entertained. After the finish line we were instructed to throw our color packet (basically corn starch and dye) in the air for the grand finale. It made for fun photos. In fact, the photos were definitely the best part of this race.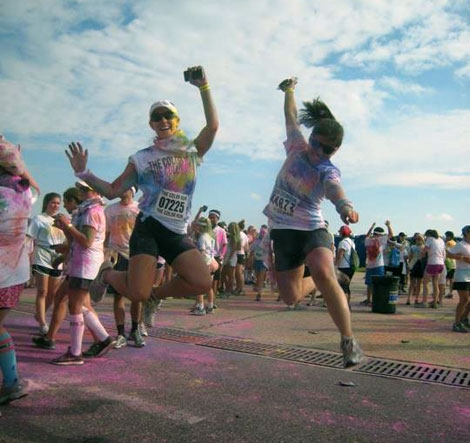 It was a fun morning. And yes, all of the color washed off… eventually. Overall, I am glad that we tried out The Color Run, but I probably don't need to do it again.
Have you done The Color Run? What did you think?