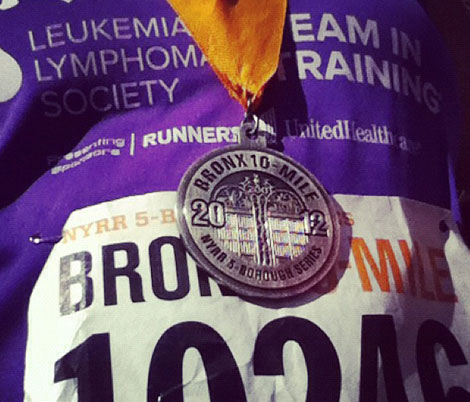 I am happy. And sore. I ran the NYRR Bronx 10 Miler on Sunday. It was the final run in a big 40-mile training week and I had intended to take it really easy. I ran 13 easy miles on Saturday at Team in Training practice and didn't know what to expect doing double digits again the next day. Surprisingly, it was an incredible and fast run!
The weather was beautiful yesterday. Clear skies and low humidity. We were late to the start line, but not stressed. I started the race too fast, but felt great and decided to see what I could do. Despite the fast start, I achieved pretty perfect negative splits. Nearly the whole race I was thinking, "I can do this on the last 10 of the NYC marathon if I don't do it on the first 10." We'll see about that, but success with these two days of long runs definitely gives me confidence for the Goofy Challenge in January.
I am reluctant to post my time because I really don't want to compete with anyone other than myself, but I will say that I ended up with my fastest pace in any race this year! Even shorter races! I'm looking forward to finding out what I can do at the Staten Island Half Marathon next month.
I ran the Bronx race two years ago when it was a half marathon. I ran much, much slower then and was just happy to finish. I have been marathon training for nearly three years straight, and although it is slow going, it is working!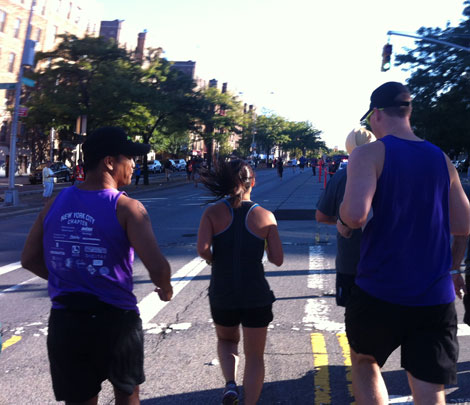 But even at my top speed, Brian, Sarah, and Travis finished much faster!
(For the record, I have deliberately and slowly worked up to these training distances and I am doing them for a specific purpose: an ambitious winter race schedule. I listen closely to my body, cross train, and take rest days. I do not recommend or endorse these distances for beginners. Be smart, everyone.)