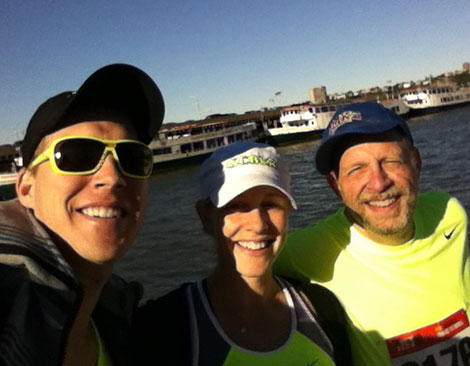 So many fun weekends in a row! On Friday, my dad came to New York to run the Run 10 Feed 10 race with me on Sunday. Dad has taken up running recently and has already completed a bunch of 5Ks and 10Ks. I'm very impressed with his progress.
We didn't have time to do too much sight seeing, but we managed to hit up L&B Spumoni Garden, Rockefeller Center, Saint Patrick's Cathedral, Times Square, the Brooklyn Museum, Franny's, and The Chocolate Room.
The race itself was an out-and-back 10K on the West Side Highway. It was well organized and a lot of fun. In his recap, Dad says that I pushed him to go faster than he was used to, but I didn't intend to. He was strong and steady and didn't express any distress. It was a great Sunday recovery run for me and I was happy to have a running buddy. It was a lot of fun. And as is the tradition, we had a delicious brunch afterward. Perfect!
You can see more photos from our weekend together on Flickr.