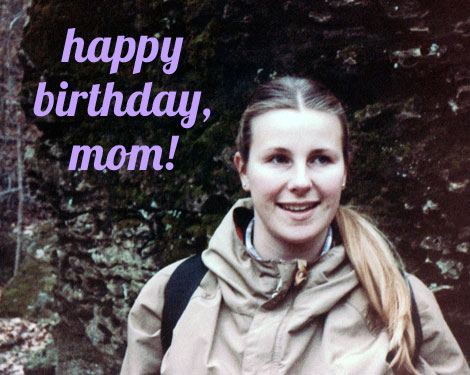 It is my mom's birthday today… Happy birthday, Mom!!
The photo above is from 1980 — I think — isn't she beautiful?
As is becoming my blog birthday tradition, I've compiled some fun facts about my mom… enjoy!
Top Ten Fun Facts about my Mom:
She was born third out of six children. I have a lot of cousins!
She has four children. But I was her first!
She absolutely loves animals, especially her Pomeranian, Queequeg.
Her favorite food is ice cream.
She was a skilled and truly impressive homemaker and mother. She led us in crafts, took us on nature hikes, made us three incredibly healthy meals a day (I can't even imagine how many carrot chips she cut!), read to us, did laundry EVERY SINGLE DAY, hosted parties, made awesome pancakes, chicken fingers, and spaghetti, trusted us, loved us, and somehow also managed to sew elaborate Halloween costumes, like this one. Wow. The older I get, the more and more impressed I am with everything she accomplished.
She had a crush on Launchpad McQuack. (We watched a lot of DuckTales — woo oo — at our house.)
She is very open minded. She likes everything from fine literature and foreign films to Twilight and American Idol… and everything in between!
She has never missed an episode of Saturday Night Live. She has also never stayed awake through a full episode of Saturday Night Live.
For a few years she worked as the cashier at the middle school lunch room. It was her favorite job because she loved the kids. She memorized all of their names.
She is without a doubt the best mother in the world. That is a fact. (She would occasionally whisper in each of her children's ears that they were her favorite. Though it may not seem possible, I think she meant it every time.)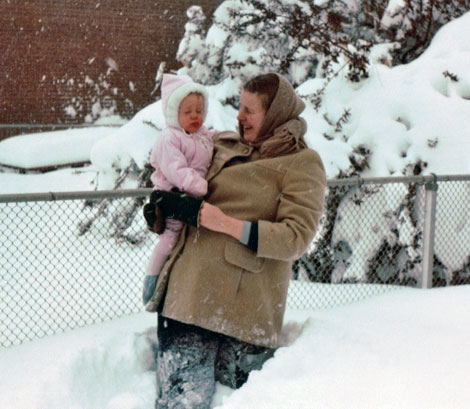 Do you know my mom? Add more fun facts about her in the comments!