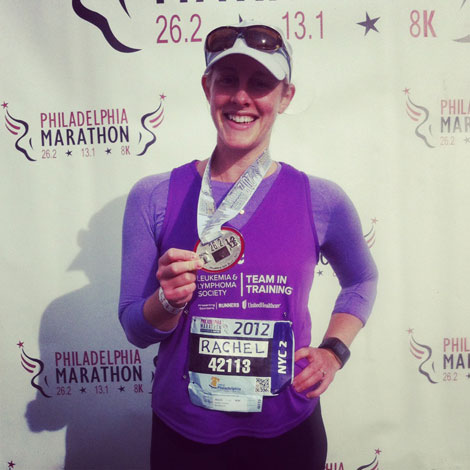 Philly was my fifth and fastest – yay – but most painful – boo – marathon yet.
I was in a daze leading up to this race. Between the terrible hurricane, the NYC marathon cancellation, and catching a cold/flu, my head just wasn't focused on running my best marathon yesterday. But I did it. Thanks mostly to my wonderful friend Sarah Yuen who ran with me the whole way and made sure I got my PR (4:48) at the end when I was majorly struggling.
In June, I ran the San Diego Rock n Roll Marathon. That was MY race! I made a detailed pace and fueling plan, stuck to it, pushed it at the end, and finished with my sub-5 hour goal time. That felt like a triumph. Despite my excitingly fast time in Philadelphia, the race overall felt more like my painful 2010 NYC Marathon than triumphant San Diego.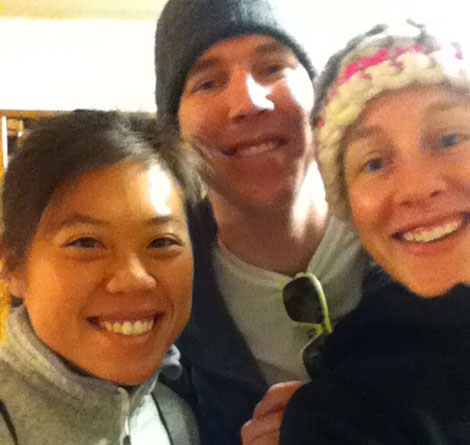 I trained hard this season. Really hard. I ran almost 50% more miles than last fall season. I achieved a crazy fast time at the SI Half. I had high hopes for my full marathon… even if it couldn't be NYC.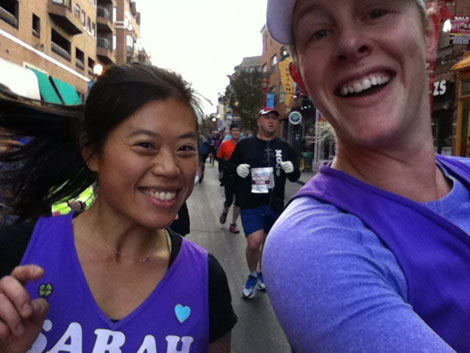 I started maybe a bit too fast. We were running 10:30-10:45 minute miles for the whole first 20 miles and I really thought it was an ok pace. I was probably being too ambitious. Especially since I was sick. I thought I was going to be able to pick it up for the last 10k and get my super goal time. I was wrong.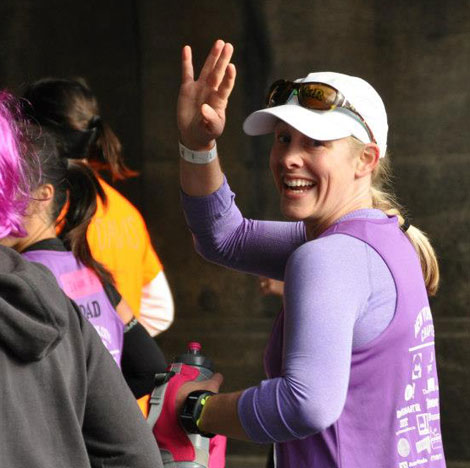 Somehow I lost my mind and gave in to my flu/cold-induced lack of appetite and decided that I didn't need to eat any more fuel after mile 16. So dumb. I ate about half of the calories I should have during the race. And so, unsurprisingly, I totally hit the wall at about mile 21. Coach Syed tried to keep us moving. I struggled. I was in pain. I stopped to walk. I wanted to quit. I've never wanted to quit a marathon as much as I did at mile 23 yesterday. Sarah kept me going. Then, Coach Kara jumped in and gave me Swedish Fish which basically saved my life. I was able to run. My friend Matt ran with us at mile 25 and lifted my spirits. Coach Amy jumped in near the end and got the crowd cheering. That was fun. I did my best to sprint to the finish line. I was just so relieved to be done. Whew.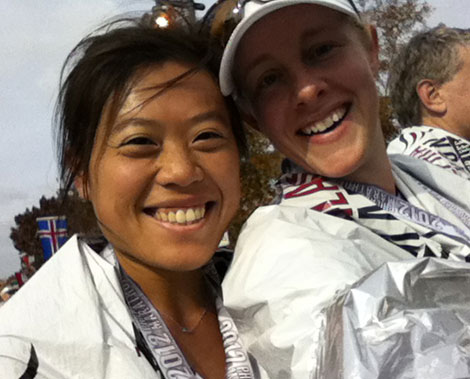 Sarah and I got our medals. Took some photos. Drank chicken broth and ate pretzels. Then we found Travis near the bag pick up. He was sitting on the curb looking exhausted. He PR'd with a time of 4:15, but hadn't quite reached his original goal. We saw a few friends, but then hobbled the mile back to our hotel. I wasn't up for getting back out on the course to cheer. I just got in bed and napped. (Not a smart recovery plan, btw.) We missed our team victory party, but managed to go out for some dinner later in the evening. I wanted ice cream, but settled for froyo.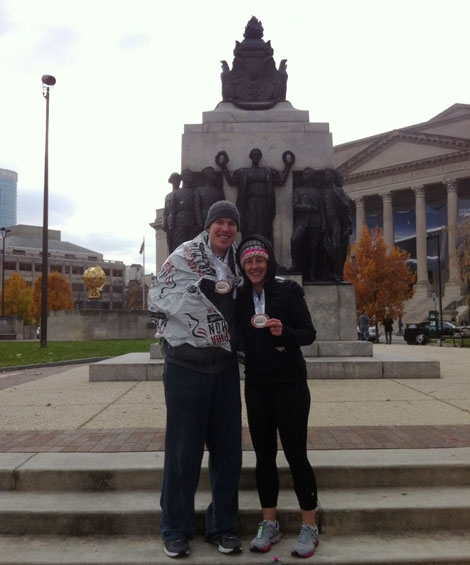 Travis and I feel very lucky. Lucky that we got into this fun, organized, giant Philadelphia road race at the last minute. Lucky that we are able to afford such fun trips and such a wild marathon running hobby — both financially and health-wise. Lucky that we get to enjoy it together. And VERY lucky to be part of our amazing Brooklyn Team in Training.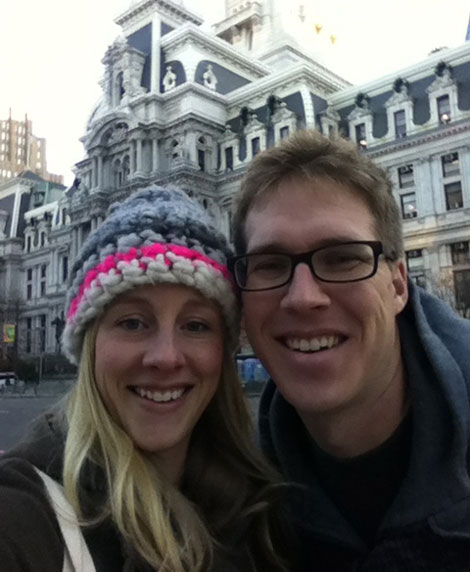 I say this every time I run a race, but I am serious: the only way to marathon is to do it with TNT. Philly was a mostly impromptu race for most of our team. Still, our coaches and team mates were there to support us. This training season didn't end up exactly as we had all planned, but the team pulled together, reorganized, and made it fun. I am impressed.
I am in pain as I recover today. So sore, chaffed, sick. I'll survive, but I wouldn't mind taking a marathon break… that won't happen, of course. We have the Goofy Challenge coming up in about 7 weeks! Gah!
UPDATE: I almost forgot!! Travis and I were on tv! We were interviewed about signing up for Philly after NYC was cancelled.