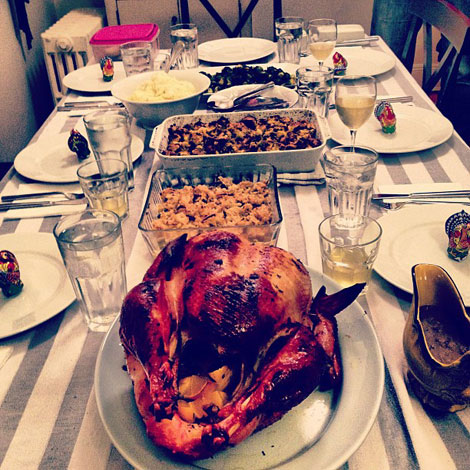 HAPPY THANKSGIVING! Travis and I save our trip back to Kansas City for Christmas, so Thanksgiving is usually not a grand affair. But I love turkey, so I was intent on making a meal this year.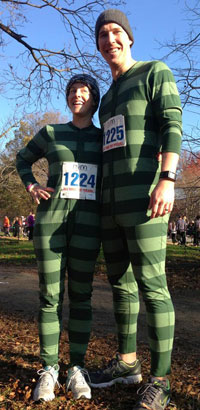 In between all the marathon craziness of the last few weeks, I started planning my big meal. I made Pinterest board to bookmark recipes and got out all of my Thanksgiving Martha Stewart magazines. The only glitch in my prep plan was the Philadelphia Marathon on Sunday. I was so sore from the race, it made shopping and carrying groceries up the three flights of stairs to our apartment slow and difficult. I also felt less than 100% at Thursday morning's Turkey Trot, but Travis' willingness to wear matching pajamas for the run helped motivate me.
I forced all of our sweet BK friends who didn't have other plans to come over dinner. I ended up making this brined herb-crusted turkey recipe. The turkey turned out great – maybe my best yet – but the apple cider gravy was a little too tangy for me. We had mashed potatoes and cranberries and stuffing and apple pie. Our friends brought appetizers, pumpkin cheesecake, muffins, green bean casserole, cookies, and wine. We ate well. I had a relaxed, fun time. I am very thankful for kind friends who put up with my party planning antics. Life is good.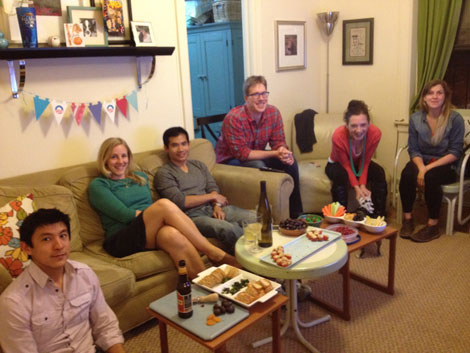 What did you do to celebrate Thanksgiving?