Two weekends of marathon racing, eleven days of travel and fun, seven medals — what an epic vacation! I have so much to say about my double challenge experience that I've divided my ramblings into three blog posts. Read on for my Goofy Challenge thoughts or click here for my Bermuda Triangle Challenge recap.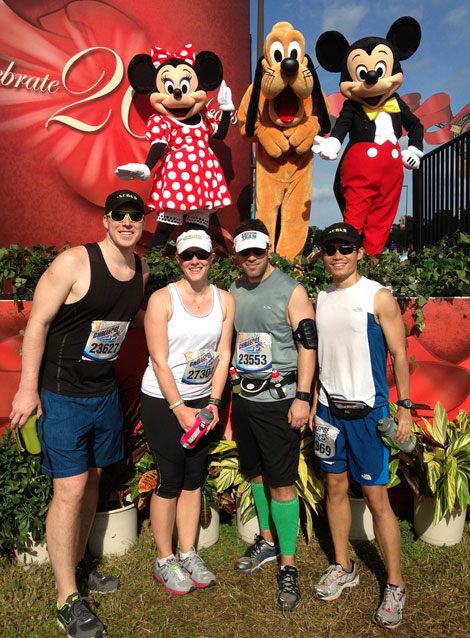 2013 DisneyWorld Goofy Challenge
RECAP:
We ran this challenge with our friends Matt, Kenny, and Brian. (I felt a bit badass to be the only girl in our group… although there are plenty of women in the Disney races. Our sister Chelsea ran the full marathon with TNT.) We flew into Orlando on Friday, hit up the confusing expo at the ESPN Wide World of Sports complex, ate gross pizza at our resort hotel, then slept.
Both races started at 5:30 am, which meant we woke up at 3 am to catch the 4 am resort shuttles. The half marathon was impossibly crowded and I got very frustrated. But we stopped for a few photos in Magic Kingdom and pushed it a bit at the end. We finished it in just under 3 hours. We spent the rest of the day at Universal Studios checking out Harry Potter World (Butter Beer is not the best pre or post race beverage) and riding roller coasters.
For the full marathon, we started in an earlier corral to try to avoid some of the crowding. It was still shoulder-to-shoulder crowded, but the pace was a bit faster. We still took it easy, stuck together, and stopped for lots of photos and all the water stops. We rode the Operation Everest roller coaster at mile 13! Very fun and my favorite part of the race! It got really hot — 80 degrees and no shade. We were on our feet for 6+ hours and I was very happy to be done when I crossed the finish line and collected my spinning Mickey marathon medal!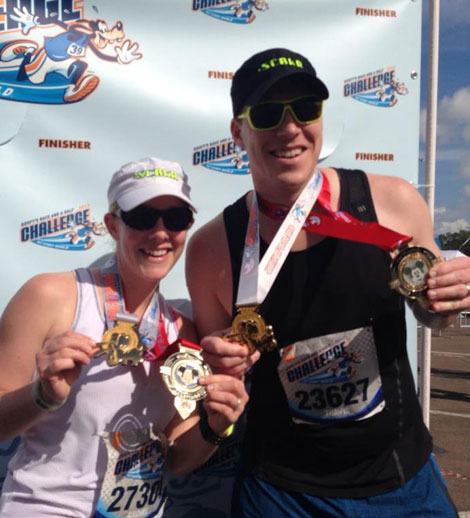 THOUGHTS:
Disney races are for Disney lovers. I am a Disney liker. I'd only recommend the Goofy Challenge to true Disney LOVERS who will get a thrill out of running through the full DisneyWorld resort property.
Although you do get to run through all four DisneyWorld parks, that is a very small percentage of the races. Most of the running is done on highways and in parking lots. There is no shade. You also run by the Disney waste water treatment plant.
Positives: The races were extremely well supported. Water & PowerAde stops every 1.5 miles and tons of volunteers. There were also four food stations (CliffBar energy gel, two bananas, and chocolate) during the full marathon and plenty of medical tents. Lots of food at the end. Lots of photographers. The medals are awesome — we got three: half, full, Goofy — and the race shirts, while a bit obnoxious, are high quality, long-sleeved tech shirts. Fun photos, music, comedians, and a roller coaster along the way!
Negatives: The races were unbelievably crowded. I have run huge races, but this was the most crowded course I've ever been on. You could easily trip on the person in front of you and it was nearly impossible to dodge your way through your corral to find a faster pace group. There was shoving and some snide remarks happening (some of them coming from me). You spend a very short time in the parks and then run on a lot of highways, where there wasn't much crowd support. It got way too hot and sunny during the full marathon.
Disney races are nearly non-competitive. ALL runners and walkers are welcome. More than 8,500 people completed the 2013 Goofy Challenge and there were MANY run/walkers. Last year before signing up, the Goofy Challenge seemed crazy and ambitious, but after completing it, it feels totally doable for nearly anyone. Don't get me wrong, we were very well-trained, but no matter your age/size/skill level/speed, if you want to complete a half & full marathon challenge in a supportive and safe environment, Disney is a good option.
Disney races are also very family friendly. We did NOT totally enjoy our stay at the Caribbean Beach Resort (humid rooms, no wifi or phone service, horrendous food options) but it would probably be an ok option for a larger family with kids — there is a huge pool. The resort transportation is very slow, but convenient.
Overall, we took the races really easy and knocked them out without much trouble. (Only the last two miles of the full marathon were painful for me.) I'm glad that our little group mostly stuck together. Travis and I finished both races side-by-side. We were all tired and a little sore after, but we still managed to spend Monday and Tuesday having fun at the Disney parks and replacing all of our lost calories with theme park treats and "international" cuisine at Epcot.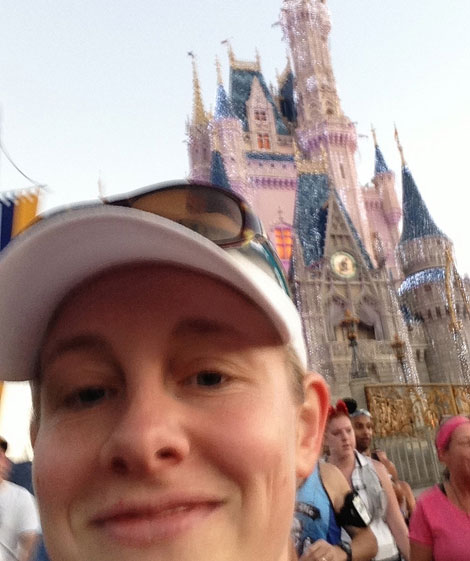 Disney is not my mecca, but I had a fun weekend hanging out with friends and tackling a huge physical challenge (and taking plenty of pretty castle photos) along the way. I don't think I need to run a Goofy Challenge ever again, but I totally understand if you want to. ha!