Bermuda was the second stop in my epic, 11-day double challenge race-cation. Read on for my detailed Triangle Challenge race report or go back and read my thoughts on the first leg of our trip, the 2013 Goofy Challenge at DisneyWorld.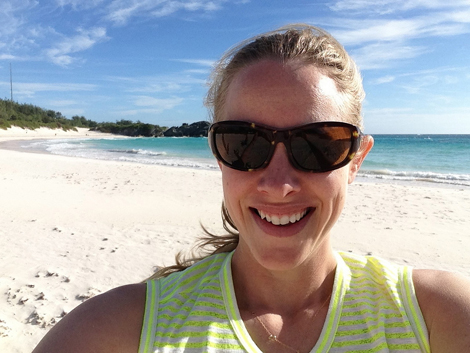 2013 Bermuda Triangle Challenge
RECAP:
The Bermuda Marathon (and the corresponding Triangle Challenge) was chosen as a winter Team in Training event for our New York City chapter, and even though Travis and I couldn't participate in winter season because we were finishing up with the overlapping Fall training season, we didn't want to miss out on the fun. Travis and I flew straight from Orlando to Bermuda on Wednesday. I was tired and it was another early morning wake up call to get to the airport in time. I wasn't sure if all of this travel and running was a good idea at that point, but I had no choice but to carry on to Bermuda. Poor me!
It was fun to be on a tropical trip with Travis — just the two of us — but we couldn't get up the energy to explore on Wednesday. We just ordered room service at our lovely Fairmont Southampton hotel, rested, and caught up on computer work using their free wifi. (Finally!) On Thursday, we were probably on our feet too much as we explored the towns of Hamilton and Saint George's. We had a delicious seafood lunch, explored an old fort, took beach photos, and did some grocery shopping, then it was back to our hotel on a water ferry for more rest.
Our friends started arriving on Friday. We did some beaching and then headed into town for the big kick off of the Triangle Challenge: the one mile race! The Warriors among us wore our colors for this short race. I took it easy and completed the mile in just under 9 minutes. Of course, one mile was no problem, but I did notice that my legs were tired and heavy…
The 10k on Saturday was also no problem. I ran it easy with my friends Becca and Jon. We walked the water stops and the steep uphills. The weather was lovely and the views were gorgeous. I tried not to think about how much longer the marathon would be.
Six AM seemed like a totally reasonable wake up time for the 8 AM marathon considering our previous 3 AM Disney wake ups. I was nervous about the full marathon. Could my legs really handle a second 26.2 miles just a week after the last one? I wasn't sure and I was sincerely nervous about not making it within the six hour time limit, but I was determined to get it done. Completing this marathon would mean I could apply for Marathon Maniacs — that was my motivation.
So, how was the marathon?? It was great! Surprising, right? I had literally no trouble with it. My legs were a little sore but strong. It rained the entire time, even pouring at times, and I was soaked through, but I felt incredibly fortunate to be running such a beautiful race. I was alone during much of the course and had to keep going and complete a second lap of the island while most of my friends stopped after the half marathon, but I didn't really mind. Maybe I was just flabbergasted by my ability to keep going, or maybe it was the cool weather, or the friendly Bermudians, or the thought of that terribly ugly Marathon Maniacs singlet that I want so badly, but I was motivated, strong, and happy for the whole race. At 5:19, it is no personal record, but I ran it an hour faster than the Goofy full marathon one week earlier and I even ran it faster than my 2010 NYC marathon! So crazy!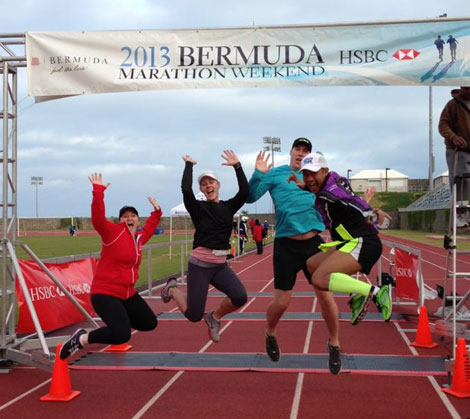 THOUGHTS:
I enjoyed Bermuda much more than Disney. In fact, I think that the pouring rain during the marathon was so bearable simply because I had the 80 degree Disney marathon to compare it to. Running most of the marathon totally solo was also a welcome contrast from the crowds of Disney. The cooler weather and amazing scenery in Bermuda made it a great race trip.
Positives: The Bermudians are very friendly. The island is beautiful, even when overcast and rainy. Amazing turquoise ocean views! The races are small — only 142 completed the full marathon. You get four medals and four tech shirts if you complete the Triangle Challenge. The race atmosphere is is totally relaxed and they kept the marathon open much longer than six hours. So many of my friends were there!!
Negatives: Not a ton of support out on the marathon course. Very small water stations with really weak Gatorade and no food stops. I had to pee on the side of the road at one point when there were no bathroom options. It rained a lot. Food and transportation in Bermuda is expensive, and the restaurants seemed to have a hard time handling our big groups since it was technically the off-season for tourists.
The flight to Bermuda is so quick (less than 2 hours) and the island is so lovely, I would totally consider traveling there again. I would even do the Bermuda Triangle Challenge again.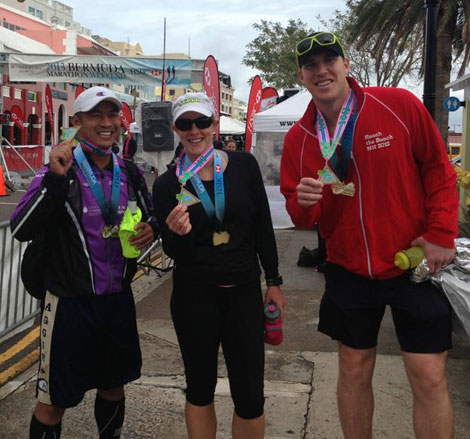 I am so glad we ended our trip in Bermuda. It was much more relaxing than DisneyWorld and it felt more like a true vacation. I just wish Travis and I could have spent a few more days on the beach together!
Now that I know I can complete two full marathons on two consecutive weekends, what should my next challenge be??