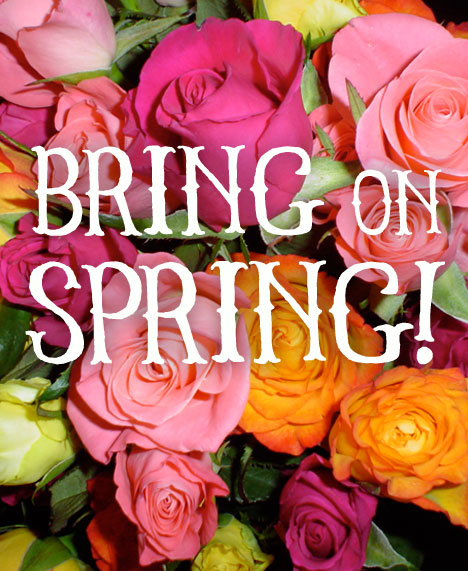 The first day of spring is tomorrow… but you'd never know that in Brooklyn. It snowed yesterday! It is rainy, cold, and overcast today. The cloudy coldness is bringing me down, but I really can't place all of the blame on the weather. I need to make some changes, to my life and to my attitude.
My spring cleaning goals:
running – Running is discouraging. It is not fun, not energizing, not empowering. It is only discouraging. I know that it is my fault for over-doing it — three marathons in two months, plus the NYC Half on Sunday, was NOT smart — but my bad attitude is deeper than merely being burnt out. I have this unrelenting feeling that running is completely unfair and no one understands how difficult it is for me. Boohoo. I shouldn't have such angry feelings about a freakin hobby. I am scaling back. I plan to only run two days a week (with Team in Training) and cross train a few days a week. I usually enjoy exercising, but I need to find a new activity that makes me feel fit and powerful, not sluggish and discouraged.
food – I have already been on a bit of a health kick. (Flax seed oatmeal with raisins and bananas for breakfast this morning!) But I want to stay committed. I have not quite decided how I feel about Mayor Bloomberg's "soda ban", but I know that for myself, I will always limit my refined sugar intake. I'll never say that I am cutting out any type of food completely because I want to be a flexible and adventurous eater, but I certainly don't need sugary beverages or processed junk food. I plan to cook at home more. Healthy dinners and lots of fruits and veggies!
swap-bot – Swap-bot is my constant companion and an unrelenting source of never-ending work. I don't mind. I'll keep working on it forever if users keep swapping… but I need to reframe my focus. I want to work harder on improving the site for ALL users, not just tread water trying to put out all the many tiny daily fires. I have said this before and I still believe it: art + community = a better world. I want to work more purposefully toward the goal of fostering creativity and friendship around the world via Swap-bot. And I want to make the site look and function better. There is a lot of work to do.
self – I plan to focus more on my own feelings and desires. I want to stay home more. Work on projects that improve my quality of life. Watch some tv. Make a quilt. Take it easy. I love socializing (probably too much) and I know it sounds crazy for someone who works alone everyday at home to want more time to myself, but I do. I love going out with friends, but I love hanging out with my husband more. I need to rest and recharge and remind myself that my priorities and ambitions may be different than others, and that is totally ok.
Once the sun comes out, I am sure I will be feeling more upbeat. Until then, I am going to take it easy on myself and do my best to foster my own happiness. What changes do you have planned for spring?