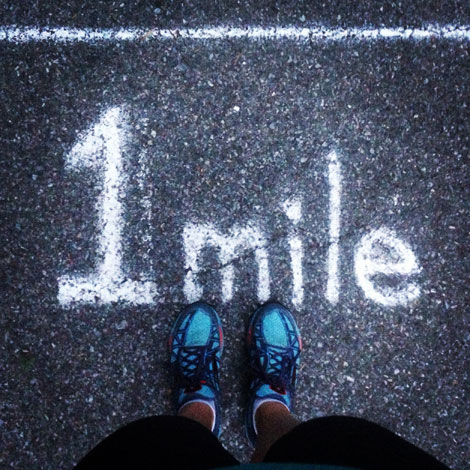 If you follow me on Twitter or Instagram, you are already aware that I am participating in the Runner's World Summer Run Streak 2013. My coach, Lisa, told me about the streak right after I completed the Trail/Road Challenge in the Berkshires. The rules of the streak were to run at least one mile every day from Memorial Day to July 4th. Thirty-nine days of consecutive running.
I have made it successfully to day 37. I've run in upstate NY, Manhattan, Brooklyn, Kansas, Oregon, in parks, on streets, bridges, and trails. I've done plenty of one-mile runs, but also a few longer excursions. I did nine miles with my dad, a quick jog with my brother Seth & Flike (the dog), the Color Run with my family, a long run to Doughnut Plant with Travis, the Pride Run with my cousin, and a few group training sessions with my Brooklyn team. It's been a good running summer!
I've been recording my run streak by posting a photo each day to Instagram and Twitter. (You can use the hashtag #rwrunstreak to find streak-related posts.) I know that my friends and followers are probably slightly annoyed with all my running tweets and photos… I can see how it could look like bragging. But that is not at all my intention! The social media documentation has been a strong motivator. Knowing that I "need" to make a post each day has gotten me out the door when I didn't want to. Encouraging comments on my posts make my day. And I love my collection of Run Streak photos!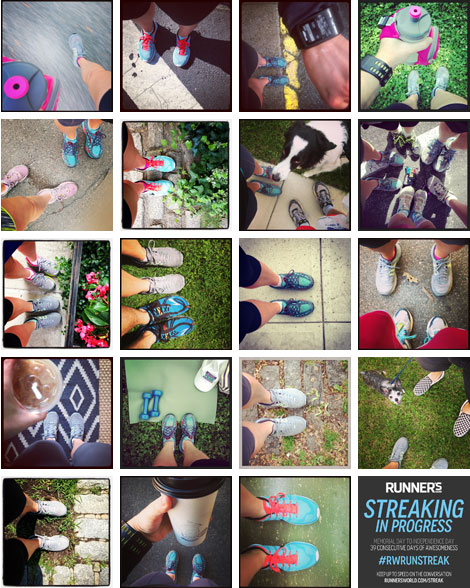 I've really been enjoying this type of lower mileage daily fitness… so, I'm going to keep it going!! My friend Alison and I have challenged ourselves to continue the streak through the end of summer. We are calling the second leg of the summer streak: The Summer Heat Streak, July 4th – Labor Day. It will be 61 more days of consecutive running. And still, the only rule is that we must run at least one mile a day. You can join us! I am going to be tagging my related social media posts with #summerrunstreak.
One last thought… running hard every day and not taking breaks can be dangerous. I do NOT run hard every day. During this streak I've taken many "rest days" where I do my one mile run at a very easy pace and let my body recover. I actually feel like this lower mileage streak has been healthier for me than the sporadic, super-high mileage I was attempting earlier this year. Always listen to your own body and do what is best for YOU… no matter what your friends are posting on Twitter and Instagram. xoxo