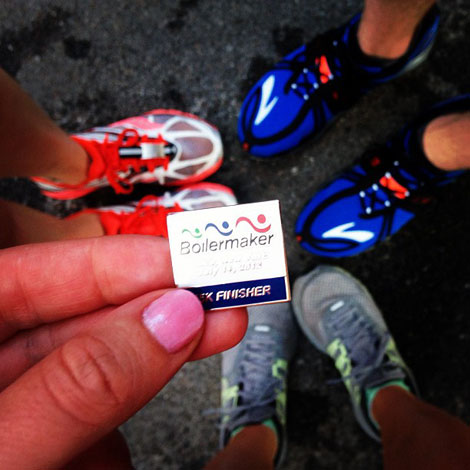 I'm running every day this summer (run streak!) but I've drastically cut back on the number of races I'm participating in. Sunday, I completed my only real race of the summer, the Uitca Boilermaker 15k.
I ran the race last summer with friends and its cute, small-town feel made me want to return. The Boilermaker may be the largest 15k in the country, with more than 18,000 runners registered (with 12,000 finishers). All of Utica comes out for the event. They hand out water, and ice, and popsicles, the zoo brings animals out onto the course, and the Saranac Brewery gives out free beer at the finish. A fun time all around. Add in my friend Kristen's parents' lovely country home with a pool and it makes for an excellent weekend!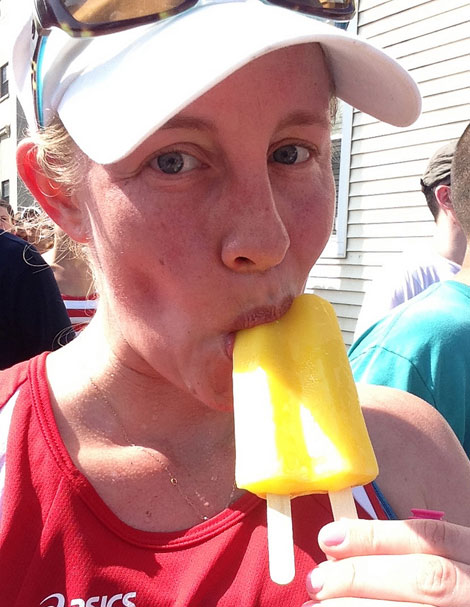 Race Report: July is hot. I don't think that can be avoided. The Boilermaker was hot last year and it was hot this year. There are a few tough hills in the race, but the heat is really the biggest challenge factor. I have not been running fast at all during my daily runs this summer, so I was not sure what to expect for a nine mile race. I didn't have any friends my pace to run with, so I decided to try to put in a solid race effort while still enjoying the scene.
The Boilermaker is a crowded race. Zipping out at the start is not even an option. I ran slow and steady at the beginning trying not to waste energy darting around and passing people. But being at the back of the "general" corral meant that I was mixed in with a less "racey" group. There was a lot of stopping and starting. So, I devised what I thought was a brilliant and novel plan to have a good, steady race: I looked for "Mercury Masters" in the crowd to hang with. The Mercury Masters are a NY running club for women over the age of 50. I didn't actually see any of their purple jerseys on the course, but I knew the type of strong, tough lady I wanted to follow on the chaotic course through the crowd. I just searched out tan, muscular, experienced-looking women and let them lead the way. The Masters know what they are doing!
I sort of worked my way up through the crowd by picking a Master ahead of me, hanging with them for a bit, and then looking for a new leader to follow up ahead. I ran strong up the hills, which let me pass many people and gave me maybe a little too much confidence. I started picking up my pace too early — before mile 8 — and sort of sputtered out a bit before picking it up and sprinting the last half mile to the finish line. I didn't reach my original time goal, but my pace was much better than what I have been running lately, so I was happy. It was fun to race an event and I felt really good for such a hot day.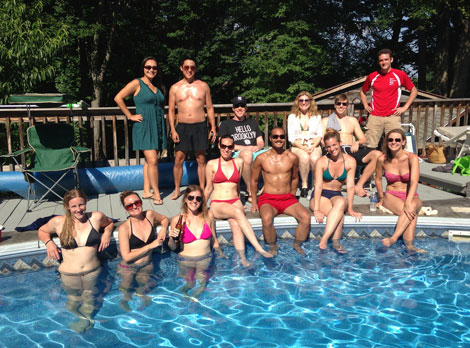 After the race and the post-race beer fest in downtown Utica, Travis and I went to a little pool party with our running friends… I think this pool pic is sort of perfect and sort of disgusting: my friends are WAY too good looking.
See more photos from our entire upstate trip here