Happy Halloween!! But this isn't a Halloween post… it is about running. Of course. It is always about running.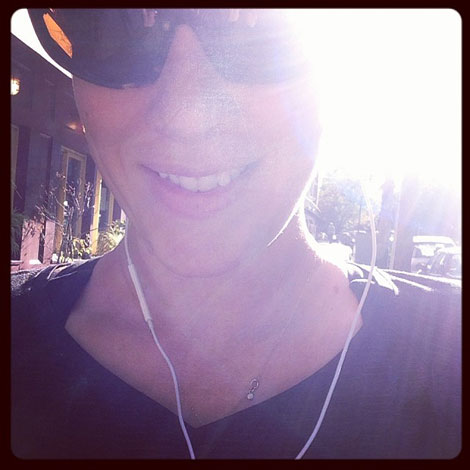 I completed so many races in the beginning of 2013 that I really burned myself out… spring and summer were not great running seasons for me, but I've gradually been working myself back into the groove. Recently, I've been surprised to realize that I am actually feeling pretty good. And, I have been doing some fairly successful marathon training on my own. I completed two solid long runs this month, including a solo 20 miler that went exceptionally well… and not just because I made pit stops for a donut AND a cupcake.
I am feeling unexpectedly excellent. Running is on my good side for now. Which is handy, because there is a lot of fun, running-related stuff happening…
Early this month, one of my best and sweetest running friends (and Warrior van-mate), Sarah, got married to her equally sweet (he got me a signed photo of Patrick Stewart!) boyfriend-now-husband, Lawrence. It was a beautiful, fun, huge, family wedding and it was such a thrill to be invited. The food was amazing and the entire event was full of cute, personal touches. Sarah and Lawrence made race bibs for their table seating cards! So clever and fun! Such a great night. Travis and I made good use of the party photo booth with our fellow running Warriors.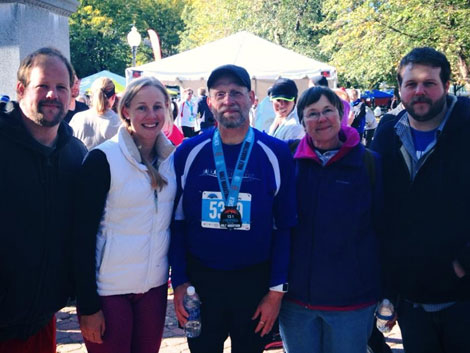 My dad ran his first official half marathon on October 19th. Very cool! With the covert help of my brothers, I flew home to surprise him on the course. Aaron, Seth, Mom, and I had signs and we were yelling our head's off, but somehow we missed Dad at the start of the race. Good thing we saw him at Mile 3 near the Liberty Memorial. He stopped and gave me a hug. I think he was genuinely surprised to see me. Success! I met him again at Mile 11 and ran the last 2 miles with him and his kind friend, Todd. Dad was tired at the end, but he ran a very strong race. Now he has his sights set on a full marathon!
See all my photos from my Kansas City trip HERE.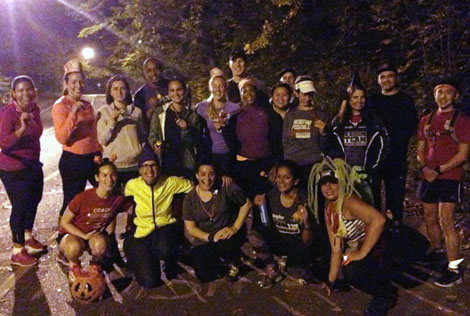 Above is my current Brooklyn Team in Training. We are all participating in the "Endless Summer" (winter) season and training for either the Bermuda or New Orleans Half Marathon. I'm Social Captain again this season, and although our group is small, it is awesome. Last night we had a "Socktober" costume contest and a 5k test. I ran (maybe) my fastest 5k ever (sub 9min/miles, but still didn't break 28 minutes – boo) and felt great. Travis was sweet and paced me the whole way. I run my best races when he helps me.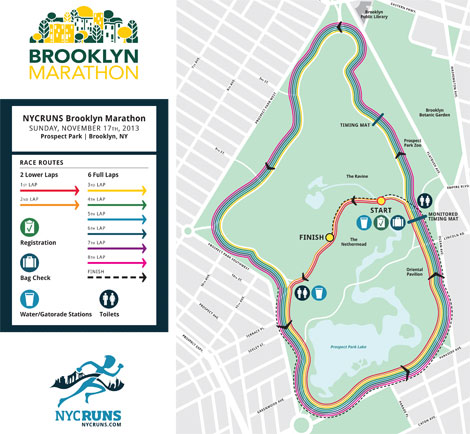 With the successful 20 mile run and the strong 5k under my belt, I feel confident enough to publicly admit that I am running the Brooklyn Marathon on November 17th. The race is entirely in Prospect Park and it will be challenging… but I think I am going to take it seriously. I have no idea whether I can PR, but you never know what will happen… perhaps it will be MY race.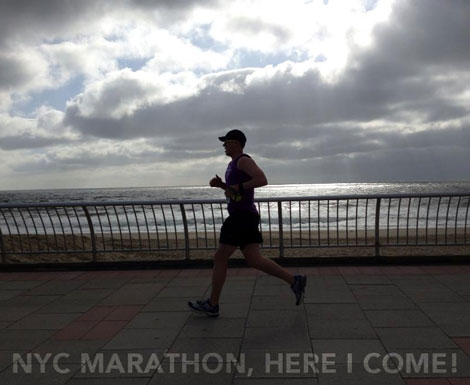 In even BIGGER news… Travis is running the NYC Marathon on Sunday! Wow. It his first NYC, but his 6th marathon. He has been training extremely hard and I think he is going to have an amazing race. I plan to cheer for him at three points on the route. He is Bib #22006 (starting in Blue Wave #2, Corral #22). You can track him by downloading the free iPhone app.
NYC Marathon Day is one of my very favorite days in the city. I was devastated by Hurricane Sandy last year and the cancellation of the race. What a sad time… But this year is going to be great! I am volunteering at the Team in Training booth at the Expo all afternoon tomorrow – come see me! – and I am an official #INGNYCMarathon Social Reporter. You can follow me as @rljart and @SCBkRunners on Twitter and as @rljart on Instagram. Be prepared for a LOT of marathon updates! (You can also search for the #ingnycm hashtag to get the newest marathon-related tweets.)
Will you be watching the NYC Marathon? What other fall events are you excited for?