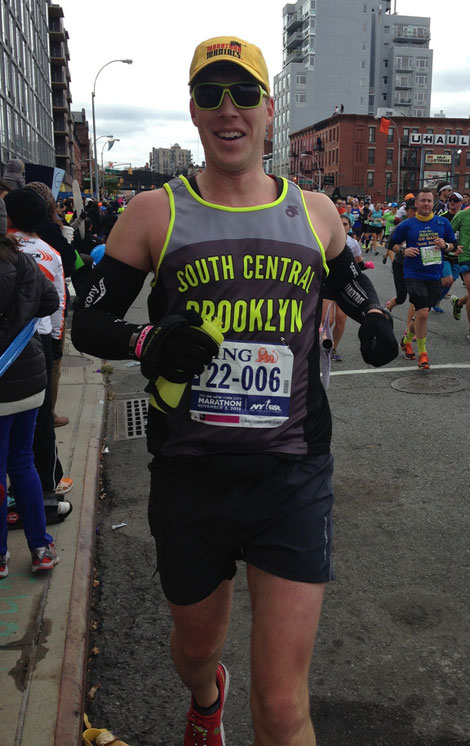 Travis did it! He ran the NYC Marathon and got his goal time of under four hours – 3:55:12, to be exact.
We were both supposed to run NYC last year. We trained with Brooklyn Team in Training, raised money for the Leukemia & Lymphoma Society, and even went to the event expo with our friends… only to find out that the race had been cancelled. We were bummed, but quickly focused on helping with hurricane clean up. Plus, we got to run the Philadelphia Marathon two weeks later, so it was still a successful season… but the NYC Marathon is special and Travis wanted his chance to run through the city. He transferred his registration to 2013.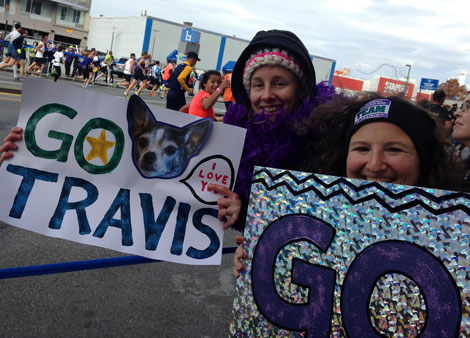 Since I already ran NYC in 2010, I decided to take the refund. That way, I could focus on cheering for Travis just like he did for me in 2010. I tried to make it to three spots on the route – mile 7 in Brooklyn near our place, mile 18 on 1st Ave in Manhattan, and mile 23 on 5th Ave in Manhattan. It was awesome seeing Travis in Brooklyn, even though it was incredibly crowded! I made it to the next two locations, but somehow I missed Travis at mile 18. Bummer. I was determined to see him at 23 — I kept my eyes on the runners obsessively — and I did! He was tired, but powering through.
I got to cheer with many friends – Becca, Sarah, Lawrence, Amanda, Joel, Matt – and I got to see many members of the current Brooklyn Team running, but not all of them. I couldn't stay out on the course all day like we did in 2011. I hustled to the finish shortly after I saw Travis for the final time. I had all of his warm clothes and didn't want to be late!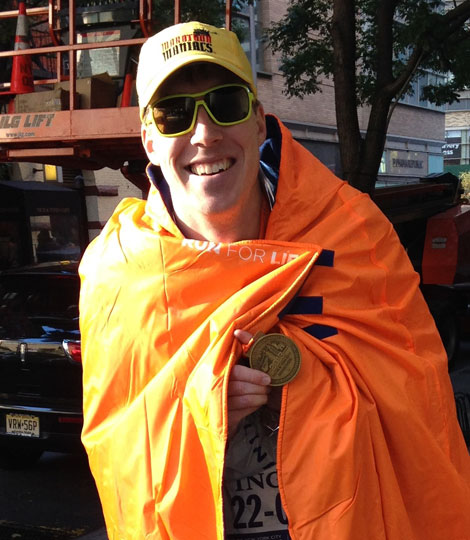 The security at the marathon was incredible! They had blocked off almost all of Central Park West and all of Columbus Circle. Giant dump trucks blocked the streets. There were police officers and canine units everywhere! The security seemed excessive (and cost $1 mil!) but it paid off, because the race went off without a hitch. Which is amazing. Especially considering that the 2013 NYC Marathon was the largest marathon in history, with 50,304 finishers. Wow!
It was a trek to get myself to a meeting place near the finish, but I made it! Travis arrived in his marathon poncho and medal. He was cold, but happy.
Travis ran a strong race and I am very proud of him. He trained extremely hard for this race. He is much more dedicated and disciplined than I. There are many more fast races in his future!
Check out all of my photos from the event in my Flickr set.