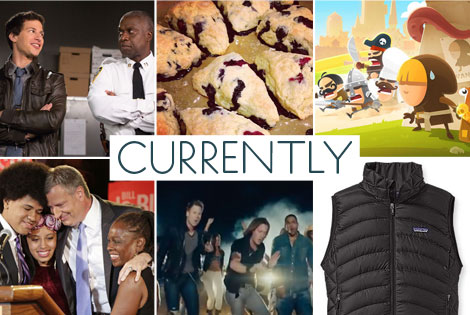 ♥ watching… Brooklyn Nine-Nine. This new comedy is my current favorite. It is really funny. And sweet. And it actually addresses some important and relevant topics, like the changing dynamics of NYC and LGTBQ and women's equality in the workplace. Plus, it is based in my neighborhood!
♥ eating… Blueberry Scones – yum! I added a brown butter glaze to Martha's classic recipe for a little more sweetness.
♥ playing… Tiny Thief, a super-adorable puzzle game for the iPhone. It costs $2.99, but I think it is worth it. Cute and clever!
♥ feeling… proud and happy that Bill deBlasio is our new Mayor of NYC!
♥ listening… to songs that will motivate me through my marathon on Sunday. My current favorites are Cruise by Florida Georgia Line (the remix version feat. my favorite STL rapper, Nelly, of course) and Timber by Pitbull and Ke$ha. What other fun songs should I add to my playlist?
♥ loving… my new Patagonia puffy vest. I wear it running and as perfect fall layer any time. Totally classic and comfy. (Wouldn't it look cute with this colorful hat?!)
♥ organizing… another great Holiday Gift Donation Drive with the Swap-bot community. We are collecting gifts for The Partnership for the Homeless to distribute at their Children's Holiday Party here in Brooklyn. Join us?
//
What are you currently into?
//
Check out a blast from the past: